21 Apr

City Gov't Clarifies That Their Thermal Scanners Can Be Used Beyond COVID-19 Crisis

Mga higala! The City Government of Cagayan de Oro has clarified that the high-end thermal scanners that they acquired for around P2 million each are of the highest quality, has many valuable features, and can be utilized beyond the current COVID-19 pandemic!

According to a post by Stephen Capillas, the said devices are European-manufactured and ISO-certified thermal scanners called Satir that have better customer support and are superior in quality, over the Chinese-made thermal scanners from Alibaba.com, which was used as comparison by some netizens who complained about its cost and price in Facebook.

Check out the details below: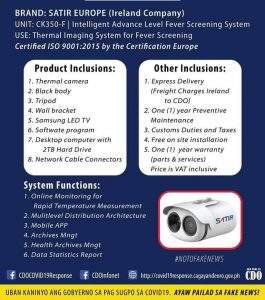 Moreover, these thermal scanners will be transferred from its current designation– at the Carmen and Cogon Market, to the airport and seaport once the lockdown is lifted over Luzon, to help in examining the expected high number of arrivals in Cagayan de Oro City.
For more information: