21 Jul

City Health Office Runs "Sabayang Patak Kontra Polio" House-to-House Campaign Amidst COVID-19 Pandemic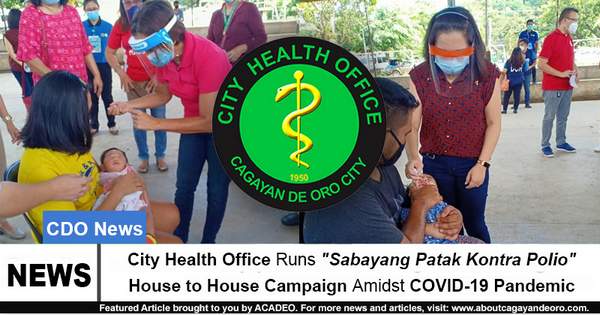 Mga higala! The City Health Office (CHO) is confident in reaching its target accomplishment of 95% in implementing the "Sabayang Patak Kontra Polio" campaign which will run Mindanao-wide starting July 20 to August 2 of this year.
This house-to-house campaign considers children ages 0-59 months.
It was in November of 2019 when the Outbreak Response Immunization (ORI) was started after the Department of Health (DOH)and the World Health Organization (WHO) reiterated the emergence of polio disease in the city.
CHO temporarily removed their fixed posts in churches, malls, and terminals to avoid a possible outbreak of COVID-19,