25 Oct

RTA Conducts Regular Clearing Operations to Clear Up Sidewalk Vendors in CDO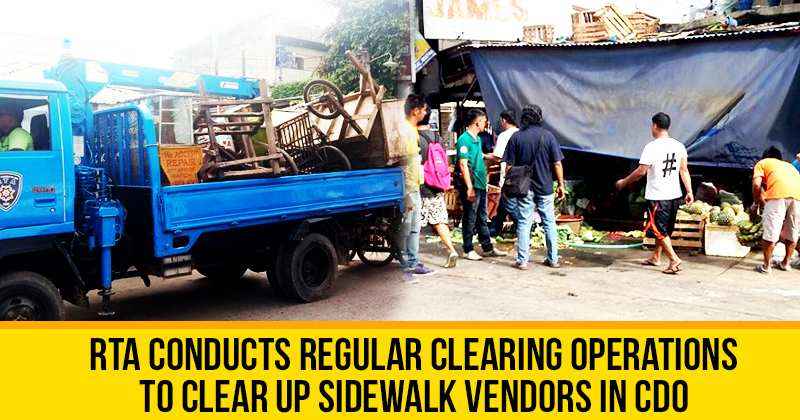 Vendors who erect stalls along the sidewalk particularly in the city-run markets in Cagayan de Oro City were warned by the Task Force Hapsay Dalan (TFHD).
Clearing operation was recently conducted three weeks ago by the workforce of the Roads and Traffic Administration (RTA).
Sidewalk vendors went back to assembling their stores in the sidewalk which caused the heavy traffic in the city, TFHD chairman, Lawyer Jose Edgardo Uy said.
Stores built along the sidewalk in Carmen public market were hauled by the traffic enforcers during their operation over the weekend.
Uy stated, "Ang among gihimo kada Sabado sa buntag kanang walay vendor, katong mga structure nga gitukod ug gibilin sa daplin, mao atong gihawanan kay maoy naka-traffic sa merkado."
The clearing operations schedule is unannounced, Uy said.
To prevent the increasing number of sidewalk vendors, the task force needs to conduct the clearing operations regularly, according to Uy.
The chairman stated, "Nibalik na sad ang mga vendor ug tukod man gud so kinahanglan na sad i-prevent kay basin modaghan lisod na tangtangon."
Once the new batch of traffic enforcers graduated from their training, Uy said that the RTA will then organize a special unit who are to prioritize the monitoring and conduct of clearing operations.
As of today, RTA has 215 personnel, Uy said that an additional 200 employees will be stationed in streets to heightened their operations.
Uy stated, "Mga first week sa November mahuman na sila training then hatagan na sila assignment after sila tanan mahuman sa ilang training."
Aside from the sidewalk vendors, increasing number of vehicles and pedicab or "sikad" are also causing the traffic jam in the city.
Uy said, "Sige nami hangyo sa mga barangay 1-40 nga dili na ipa-operate and sikad kay bawal pero ga isyu lang gihapon sila og permit."
He added, "Ang volume sa sakyanan nidaghan, then disiplina gayud kay bisan kaning mga SUV drivers nga ga expect ta nga sila maoy mas nakasabot sa traffic rules, mao man ga-violate kay usahay ga-park tunga-tunga sa dalan."
"Karon kay nadugangan naman ang force sa RTA buhaton na gayud namo ang kanunay nga pagpatuman sa hapsay nga traffic," Uy said.
News Source: Sun.Star