30 Aug

15 Army Troops Killed in a Combat Against the Abu Sayyaf in Sulu

On August 29, Monday, according to the initial military and police reports, there are about 15 Army troops killed and 5 others who were wounded during the combat with Abu Sayyaf Group (ASG) in Patikul, Sulu.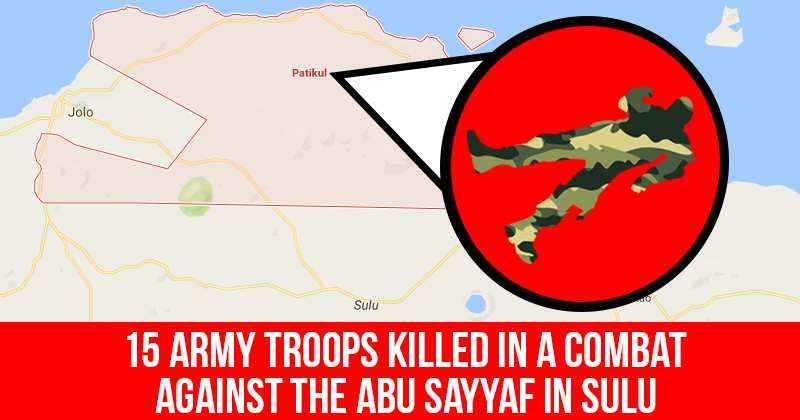 Based on the police report issued to Rappler – social news network, around 5 to 6 pm, yesterday, two Army battalions conducted pursuit operations against the ASG when they were assaulted by the rebels under the command of Radullan Sahiron, ASG leader.
As of 8 pm, there were already 12 Army soldiers killed during the combat, stated through a military source. Meanwhile, another report sent by the police affirmed the fatalities saying that the operation in Sitio Kan Jalul, Maligay, Patikul is still ongoing.
According to updated sources from the police and military, 15 soldiers from 35th and 21st infantry battalions were killed before midnight.
Last August 26, Friday, there were 11 ASG members killed in an encounter with the Army. And on a separate gun battle last Saturday, August 27, military affirmed that they killed 3 more ASG members.
The military said that one of the killed ASG members last Friday was Abu Sayyaf sub-commander Mohammad Said, alias Ama Maas. Ama Maas had 5 standing warrants of arrest for murder.
Previously, President Rodrigo Duterte vowed to destroy the Abu Sayyaf. The military then focused on crushing them in Sulu and Basilan. The military is determined on enforcing the order of the President, stated by the commanding general of the Western Mindanao Command, Lieutenant General Mayoralgo M. Dela Cruz. As he spoke, "He gave a specific order. The mission is clear. Seek and destroy the ASG."