09 Feb

COMELEC To Remove 39 Party-List Groups For 2022 Elections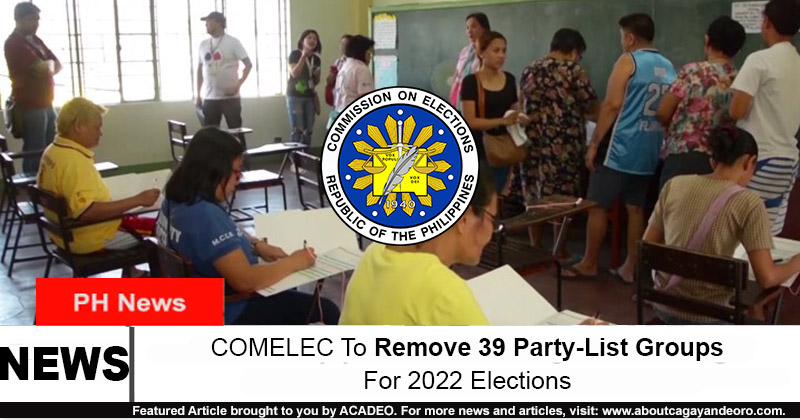 Mga higala! The Commission on Elections (COMELEC) will be removing 39 groups from the party-list candidates for the coming 2022 elections!
According to Comelec, they are authorized to remove groups who failed to participate in the last two preceding elections or those who did not obtain at least 2% of votes cast under the party-list system in the same period.
Below are the groups who might be removed:
Advance Community Development in New Generation
1-A Action Moral & Values Recovery Reform of the Phils., Inc
Una Ang Pamilya
Ang Galing Pinoy
Alagad Party-List
Alliance For Nationalism and Democracy
Kapatiran ng mga Nakulong na Walang Sala, Inc.
Kalikasan Partylist
Usa An Aton Nahigugma Nga Iroy Nga Tuna
Alay Buhay Community Development Foundation, Inc.
Adhikaing Tinataguyod ng Kooperatiba
Alliance of Volunteer Educators
Abakada Guro
Barangay Natin
Abante Mindanao, Inc
Append, Inc
Ang Nars, Inc.
Ang Tao Muna at Bayan
Ako An Bisaya
Alliance of National Urban Poor Organizations Assembly, Inc.
Confederation of Non-Stock Savings and Loan Associations, Inc.
Academicians, Students and Educators Alliance, Inc.
Amepa OFW Access Center, Inc.,
Federation of International Cable TV and Telecommunications Associations of the Philippines
Global Workers and Family Federation, Inc.
Kaisahan ng mga Maliliit na Magsasaka
Movement For Economic Transformation and Righteous Opportunities
Partido Manggagawa
Sandigan ng mga Manggagawa sa Konstruksiyon
Sinag Tungo Sa Kaunlaran
Tanggol Maralita, Inc.
Tinderong Pinoy Party
Tribal Communities Association of the Philippines
Union of Nationalist Democratic Filipino Organization
Alliance of Philippine Fishing Federations Inc.
Awareness of Keepers of the Environment, Inc.
Kamais Pilipinas (Kapatirang Magmamais ng Pilipinas Inc.)
Partido ng Bayan ang Bida
One Bagong Ahapo ng Pilipinas Party-List
For more details:
https://cnnphilippines.com/news/2021/2/9/COMELEC-delisting-party-list-groups-2022-polls.html