01 Aug

Communist Rebels Uproar made President Duterte to Lift the Ceasefire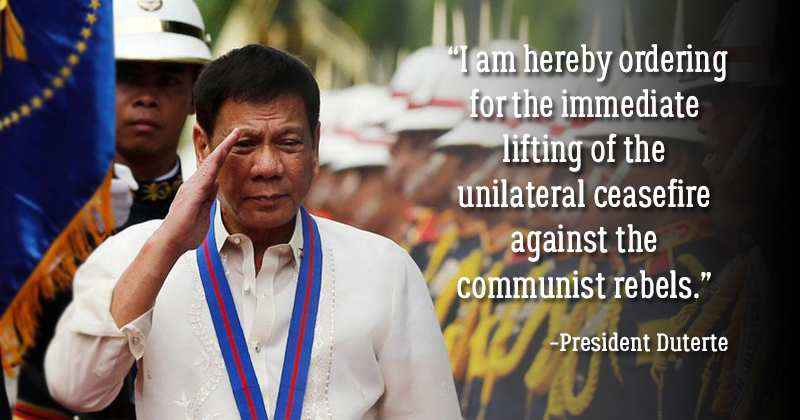 Last July 25, President Rodrigo Duterte declared a unilateral ceasefire during his first State of the Nation Address (SONA). But last June 27, Wednesday, the New People's Army (NPA) attacked the government troops in Davao del Norte. With this, the President issued a 5 p.m. ultimatum.
After two hours past his 5 p.m. ultimatum on Saturday evening, the President lifted the unilateral ceasefire with the communist rebels.
President Duterte said in a statement through Presidential Adviser on the Peace Process Jesus Dureza, "Let me now announce that I am hereby ordering for the immediate lifting of the unilateral ceasefire that I ordered last July 25 against the communist rebels."
He also added, "I am ordering the Armed Forces of the Philippines and the Philippine National Police to also withdraw the operational guidelines they issued in pursuance to that ceasefire declaration."
Due to this uproar against the communist rebels, the President gave an order to all security forces to be on heightened alert and continue to discharge their normal functions and mandate to neutralize all threats to national security, protect the citizenry, enforce the laws and maintain peace in the land.
But still, peace talks with communist groups would continue in August as scheduled, even if the President lifts the ceasefire, Dureza said.