27 Oct

Complete List of Regular Holidays and Special (Non-Working) Days for 2018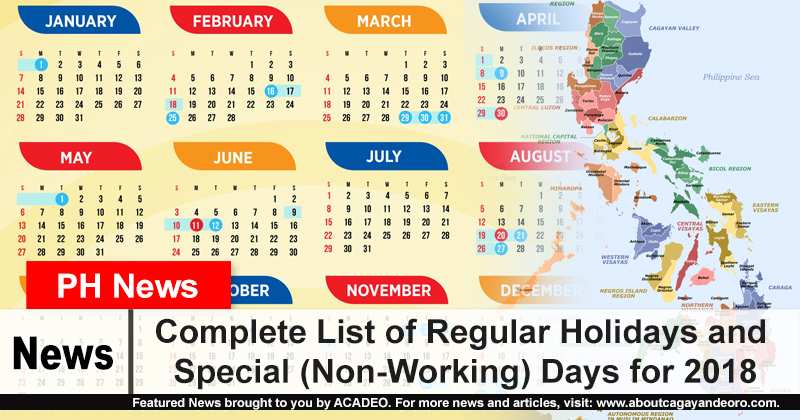 Proclamation No. 269 otherwise known as the "Declaring of Regular Holidays and Special (Non-Working) Holidays for the Year 2018" declares the following regular holidays and special days for the year 2018 shall be observed throughout the country:
Regular Holidays
New Year's Day – January 1
Maundy Thursday – March 29
Good Friday – March 30
Araw ng Kagitingan – April 9
Labor Day – May 1
Independence Day – June 12
National Heroes Day – August 27
Bonifacio Day – November 30
Christmas Day – December 25
Rizal Day – December 30
Special (Non-Working) Days
Chinese New Year – February 16
EDSA People Power Revolution Anniversary – February 25
Black Saturday – March 31
Ninoy Aquino Day – August 21
All Saints Day – November 1
Last Day of the Year – December 31
Additional special (non-working) days
November 2
December 24
Declaring additional special non-working days for November 2 and December 24 throughout the country  will not only promote domestic tourism but it also allows families to spend more time together for the traditional All Saint's Day, All Soul's Day and most especially for Christmas Day commemorative activities.  
But it should also be noted that proclamations which declare national holidays in observance of Eidul Fitr and Eidul Adha shall be issued after the approximate dates of the Islamic holidays have been determined in accordance with the Islamic calendar (Hijra) or the lunar calendar.