08 Jun

LOOK: Focused Containment Area In Brgy. Carmen Due To Recent COVID-19 Case

Mga higala! Here is the proposed focused containment area in Barangay Carmen, which will be imposed due to the recent COVID-19 case involving a 34-year-old female, who died yesterday, June 7!

This aims to help health personnel conduct surveillance and prevent the spread of the coronavirus.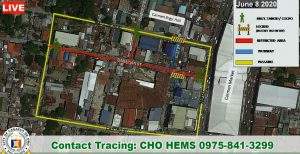 The patient is said to be a peanut butter and polvoron maker.
An official order about the said containment area may be issued by Mayor Oscar Moreno later today.
For more details, watch:
(58:00)