02 May

Councilor Reuben Daba Loses Over 1 Million Pesos Worth Of Jewelry Due To A Burglar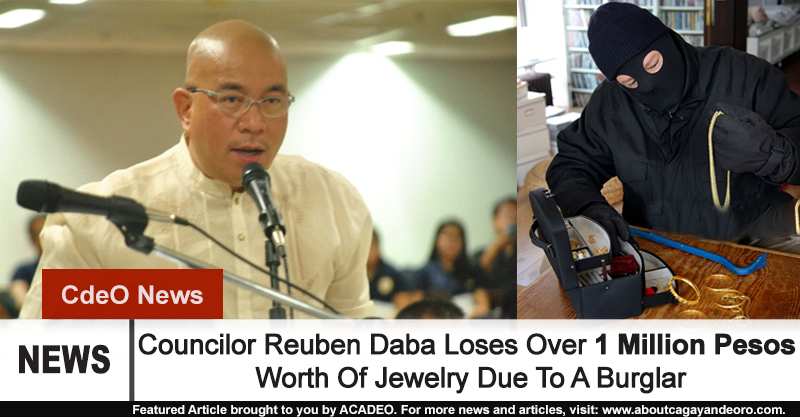 Mga higala! City Councilor Reuben Daba recently lost a total of over 1 million pesos worth of expensive jewelry after a burglar ransacked his home at Frontiera Subdivision, Gran Europa, Lumbia last Sunday, April 29.
According to Sunstar, the incident happened while Daba and his family were at church. Upon returning home that day, Daba said that they discovered the jewelry box containing the said items was already empty on their bed and his laptop was also taken.
The councilor also added that there were no signs of forced entry, "Mura lang og tag-iya ang suspek kay gikuha ang mga alahas unya in order tanan gamit. Wala pud sign nga gipugos pag-abri ang balay (The suspect seems like the owner of the house because he just took the jewelries and left. Other things are in order and there is no forcible entry)."
Furthermore, according to Police Station 8's Chief Inspector Rey Gaudencio Taboclaon, they are now launching a follow-up operation and checking all CCTV footage of the subdivision since a witness saw the suspect that day.
Taboclaon also expressed that they are also considering an "inside job" angle since Daba also revealed that his wife and their helper were the only ones who knew where their house key is hidden.
Source: Sunstar Cagayan de Oro