03 Oct

Councilor Nacaya To Push For "Clean-As-You-Go" Ordinance In Cagayan de Oro City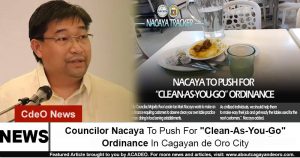 Mga higala! Councilor Ian Mark Nacaya is now aiming to make a CLEAN-AS-YOU-GO ordinance that will require customers to clean up after themselves after eating in food-serving establishments, here in Cagayan de Oro City!
According to a post on his Facebook page, Nacaya expressed that people in the Philippines just leave their tables messy and always expect that a fast food/restaurant employee will clean since it's their job.
Nacaya then added that cleaning up is a sign of respect for others and that customers should consider that these crew members are underpaid while some are working students, and that we should help in making their job easier.
ICYDK, some countries are already following the clean-as-you-go policy.
"It does not mean that we are in a developing country and we cannot do this kind of practice. It will not only instill good citizenship, dependability, and environmentalism but also teach our children good manners and right conduct."
For more details: