12 Oct

P24M Counterfeit Cigarettes and Contrabands Confiscated At Cogon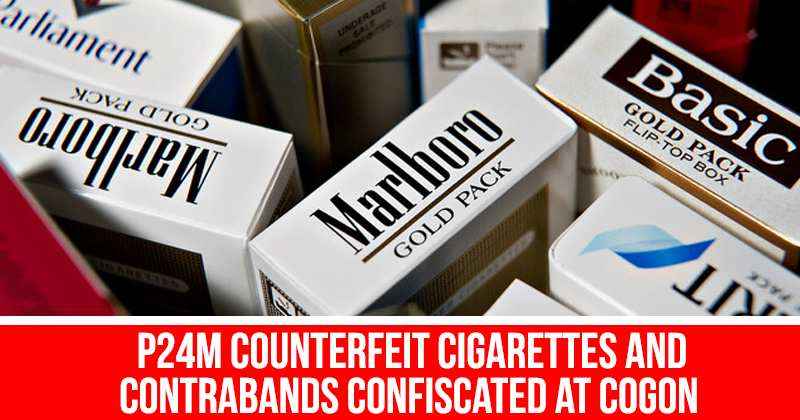 The Bureau of Customs (BOC) District 10 are now investigating three foreign businessmen who were said to be responsible for the smuggling of counterfeit cigarettes and other contrabands in Mindanao.
BOC-10 personnel confiscated counterfeit cigarettes branded as Philip Morris which valued around P24 million.
According to Customs Inspector Junel Pugoy, they confiscated contrabands as they raided stores as well as two warehouses at Cogon area in Cagayan de Oro yesterday.
They conducted several patrolling in the area as they have received information about the contrabands from a tipster.
Pugoy also said that they are investigating the three foreign businessmen who were labeled as Chan.
Personnel from Philippine Drug Enforcement Agency (PDEA) headed by Dir. Adrian Alvarenio, supported the BOC upon raiding the warehouse.
Administrative and criminal charges against the suspects were filed as they are responsible for the supply of counterfeit cigarettes in large parts of the island of Mindanao.
Pugoy appealed to the public to refrain from using the fake products, especially in counterfeit cigarettes.
Pugoy said that aside from businessmen who smuggles fake products and does not pay taxes to the government, it can also cause damage to human health.
The appeal made by Pugoy is to urge the public to immediately report to them if they know that there are people involved in smuggling fake products, to act for appropriate action.
PDEA-10 found no illegal drugs from the contraband confiscated by the BOC-10 in the warehouse they raided.
PDEA regional director Adrian Alvarenio said that there are packages of counterfeit cigarettes discovered by their K-9 dog, but negative for illegal drugs.
Alvareno believes that the packages of cigarettes were once used for illegal drugs as the K-9 dog could still sniff the substance.
News Source: Bombo Radyo