13 Aug

Crime Rates in NorthMin Dropped to 44% for July

On August 12, Friday, regional police said that for the month of July 2016 there was a 44% drop in the overall crime rate in Northern Mindanao compared to the same month in the past 2 years.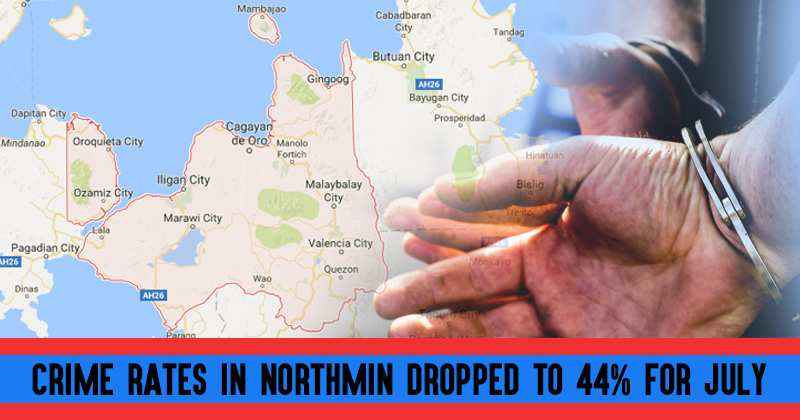 Police Superintendent Surki Serenas, regional police spokesperson said "July 2014 registered 3,983 crimes, while in July 2015 got 3,171 crimes… in July 2016, there were only 1,974 crimes committed."
Most of the crimes committed were related to illegal drug abuse said Serenas. As he spoke, "Our assessment points to the… direct effect of the diminished presence of illegal drugs in the streets, as a result of the intensified anti-illegal drugs campaign."
"Most of the prevalent crimes are usually drug-related like theft, robbery, domestic violence, rape, and all forms of abuse. We were not surprised of the marked decrease in crime volume," Sereñas added.
Between the months of July 1 to August 11, a total of 55, 613 drug users and pushers surrendered and voluntarily turned themselves to the police since Operation Tokhang commenced in Northern Mindanao.
Serenas said, "332 suspects were arrested with cases filed, 11 killed during legitimate police operations, and over 100 were arrested during other anti-illegal drugs operations." He also acknowledged the record-breaking 139 buy-bust operations in the region.
A total of 11 suspects were killed during the operation. 3 in Tagoloan town, 2 in Cagayan de Oro City, one each in Gingoog and Valencia City, 1 in Talakag, Bukidnon, 1 each in Opol and Claveria in Misamis Oriental, and 1 in Misamis Occidental.
There are also police officers who were killed during the anti-illegal drugs campaign. One was killed, and the other one was wounded and remains in critical condition in the hospital.
"We just hope we can sustain this momentum and get the job done within the allotted time," Serenas ended.