12 Jan

CSC To Conduct Civil Service Exam This March & June 2022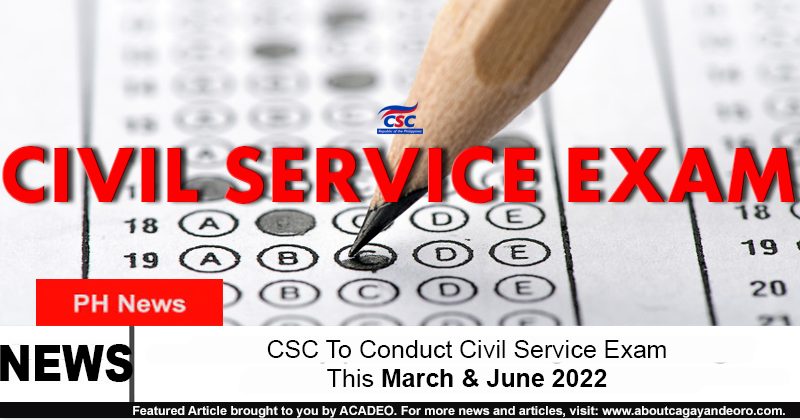 UPDATE:
Mga higala! The Civil Service Commission (CSC) is now set to conduct its civil service exams or Career Service Examination-Pen and Paper Test (CSE-PPT) this March 13 and June 19, 2022!
Wanna take this exam? Apply now! Below is the application period:
January 12-27 (for March 13 exam)
April 12-28 (for June 19 exam)
And, here are the qualifications and requirements:
QUALIFICATIONS
Filipino citizen;
At least 18 years old on the date of filing of application;
Of good moral character;
Has not been convicted by final judgment of an offense or crime involving moral turpitude, or disgraceful or immoral conduct, dishonesty, examination irregularity, drunkenness, or addiction to dr*gs;
Has not been dishonorably discharged from military service, or dismissed for cause from any civilian position in the government; and
Has not taken the same level of Career Service Examination, either through PPT or CSC Computerized Examination (CSC COMEX), within three months before the date of examination
REQUIREMENTS
Fully accomplished Application Form (CS Form No. 100, Revised September 2016, downloadable from the CSC website);Note: Applicants are strongly advised to download the Application Form from the CSC website www.csc.gov.ph, and print the form using legal size bond paper.
Four (4) pieces of identical I.D. passport size pictures.
Original and photocopy of accepted I.D. cards for civil service exam, which is preferably valid (not expired on the date of filing of application)
Additional requirements (if applicable):
Original and photocopy of Vaccination Card
Original and photocopy of Birth Certificate
Original and photocopy of Identification Certificate (IC) issued by the Bureau of Immigration
Where to Get Application Form
The application form (appropriate CS Form No. 100) is available at any CSC Regional/Field Office or may be downloaded from the CSC website: www.csc.gov.ph. The application form may be printed/reproduced using legal size bond paper.
How to File/Mode of Filing Application
Applicants must communicate/coordinate with the CSC Regional Office (CSC RO), or with any of the CSC RO's Field Offices, where they intend to take the examination regarding the mode of filing an application and the corresponding procedures.
For the full details: