02 Dec

CSC Reminds Gov't Employees About Stricter Sexual Harassment Policy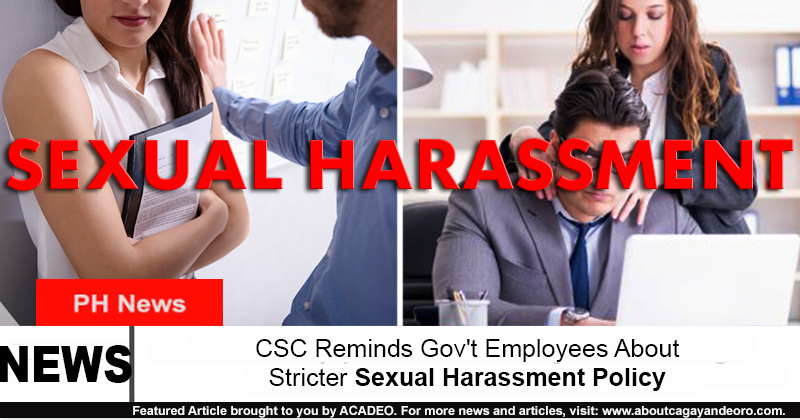 Mga higala! The Civil Service Commission (CSC) now reminding government employees regarding the country's stricter sexual harassment policy!
Workers are urged to be mindful of their behavior and treat their colleagues with respect.
According to the CSC, sexual harassment not only covers physical or verbal acts but malicious deeds that are done using technology as well. This may include the following:
unwanted sexual misogynistic, transphobic, homophobic, and sexist remarks and comments, committed whether publicly or through direct and private messages
invasion of victim's privacy through cyberstalking and incessant messaging
uploading and sharing without the victim's consent any form of media that contains photos, voice, or video with sexual content
any unauthorized recording and sharing of any of the victim's photos, videos, or any information online
Moreover, CSC has expanded the coverage of sexual harassment to include violations done streets and public places like alleys, roads, restaurants, malls, public washrooms, bars, and public utility vehicles.
This includes:
catcalling; wolf-whistling; unwanted invitations; misogynistic transphobic, and sexist slurs
persistent uninvited comments or gestures on a person's appearances;
relentless request for personal details that are unwanted and threaten one's sense of personal space and physical safety
#BeInformed and help keep our workspaces safe higala!
For more details:
csc.gov.ph/new-updates/2277-csc-reminds-gov%E2%80%99t-employees-on-stricter-sexual-harassment-policy.html