23 Oct

Dahilayan Forest Park Resort – The Ultimate Family Playground

In the past, when travellers hear the word "Mindanao" or even Cagayan de Oro they often wonder what there is to see there. Tourists often ask if there are any "adventurous" tourist attractions there. Today, thanks to many adventurous entreprenuers Cagayan de Oro is now associated with thrill and adventure because of the number of nature and adventure parks that have sprouted in and around the city. The best known of them all is Dahilayan Forest Park Resort, and this adventure park alone has CDO and Bukidnon as the "Adventure Capital" of the Philippines.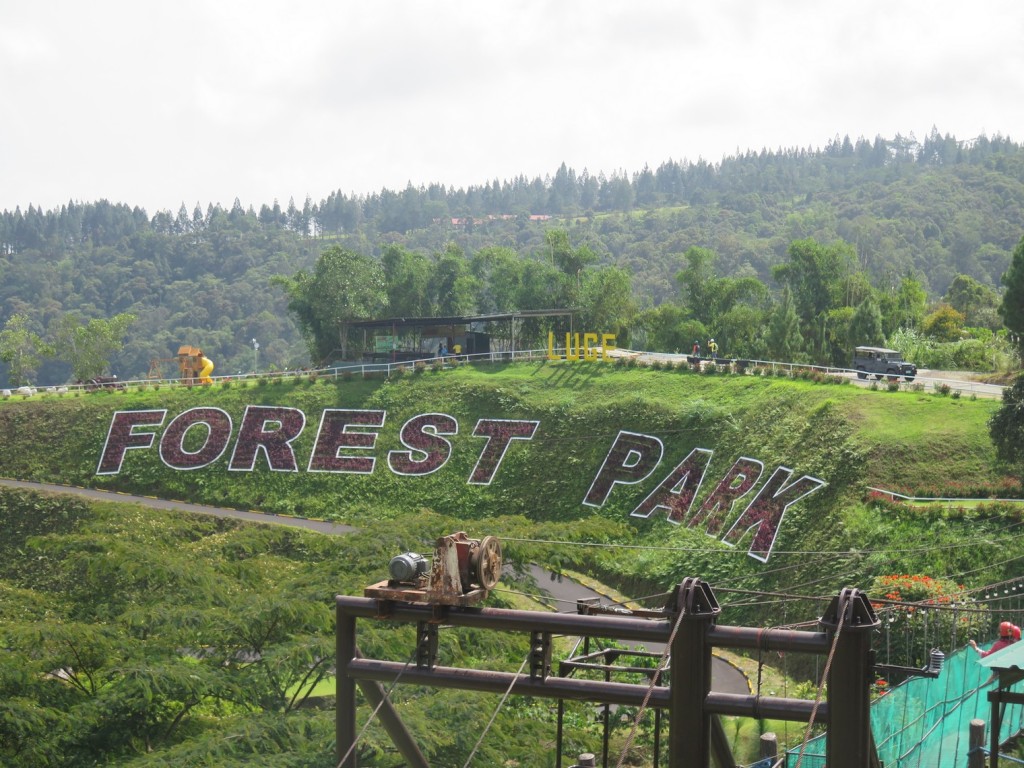 Dahilayan Forest Park Resort is a magical place located in Dahilayan, Bukidnon, at least an hour and a half by land vehicle from Cagayan de Oro City.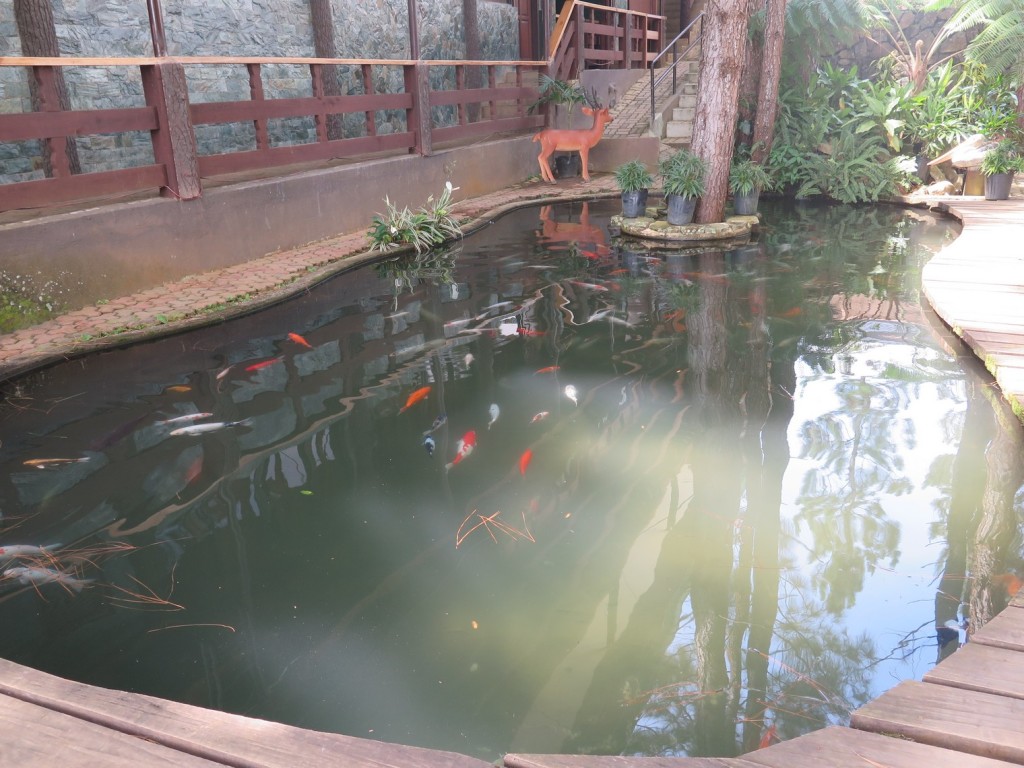 Naturally, anyone going to Dahilayan or Bukidnon for that matter will have to do so from Cagayan de Oro first. This factor has placed Dahilayan Forest Park as one of the top destinations for Cagayan de Oro's tourist attractions, even if it is in Bukidnon.
Historical Background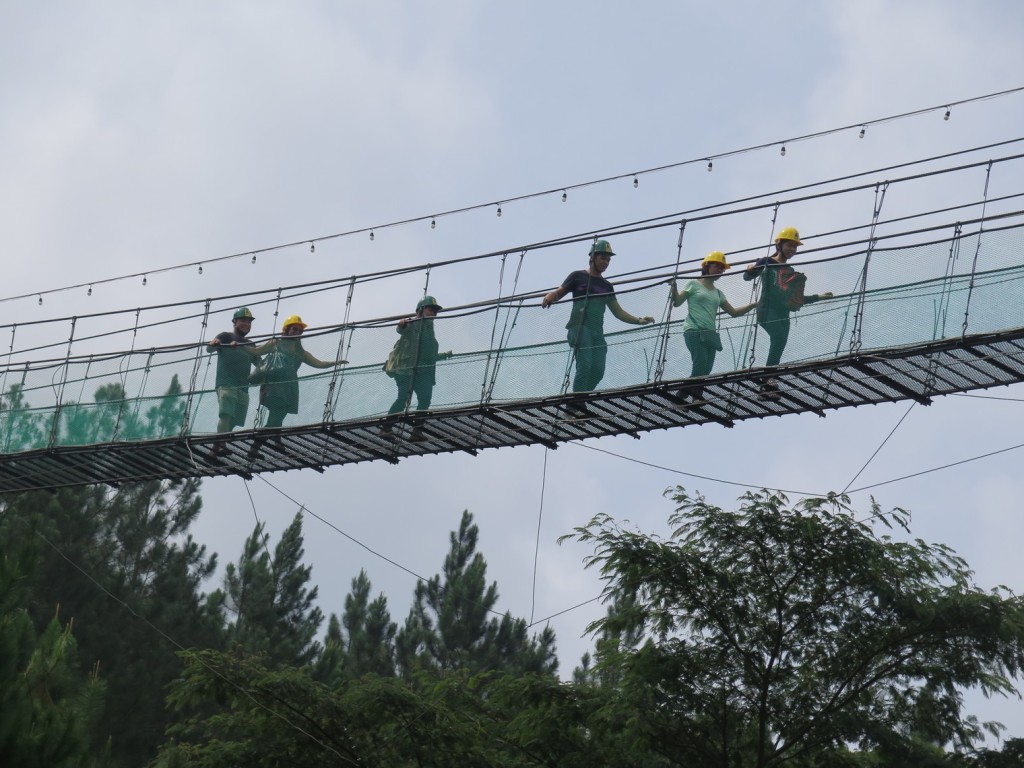 Cagayan de Oro is known as the hub that interconnects provinces and cities around Mindanao. Bukidnon being the nearest province, just 30 minutes away from the city, even feels almost like home to many Cagayanons. This is how the Paras Family from Cagayan de Oro, found this piece of Heaven in the mountains of Dahilayan, Bukidnon.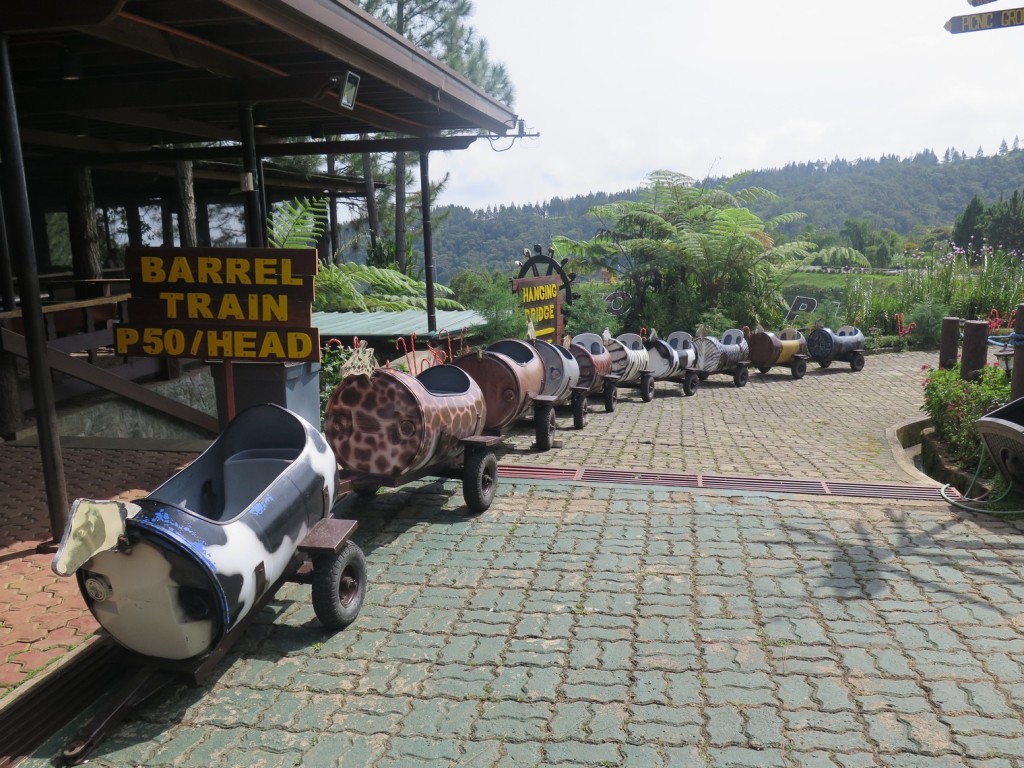 It all began with the idea to build a vacation house for the family in 2001. Dahilayan was the perfect weekend getaway, it being on a mountain top with the view of Mt. Kitanglad, surrounded by nature, with the best part being the foggy cold weather that can often fall to 17ºC at night. Back then, the land around Dahilayan was barren with no trees and roads, but beautiful nonetheless with scenic mountain views on the way up.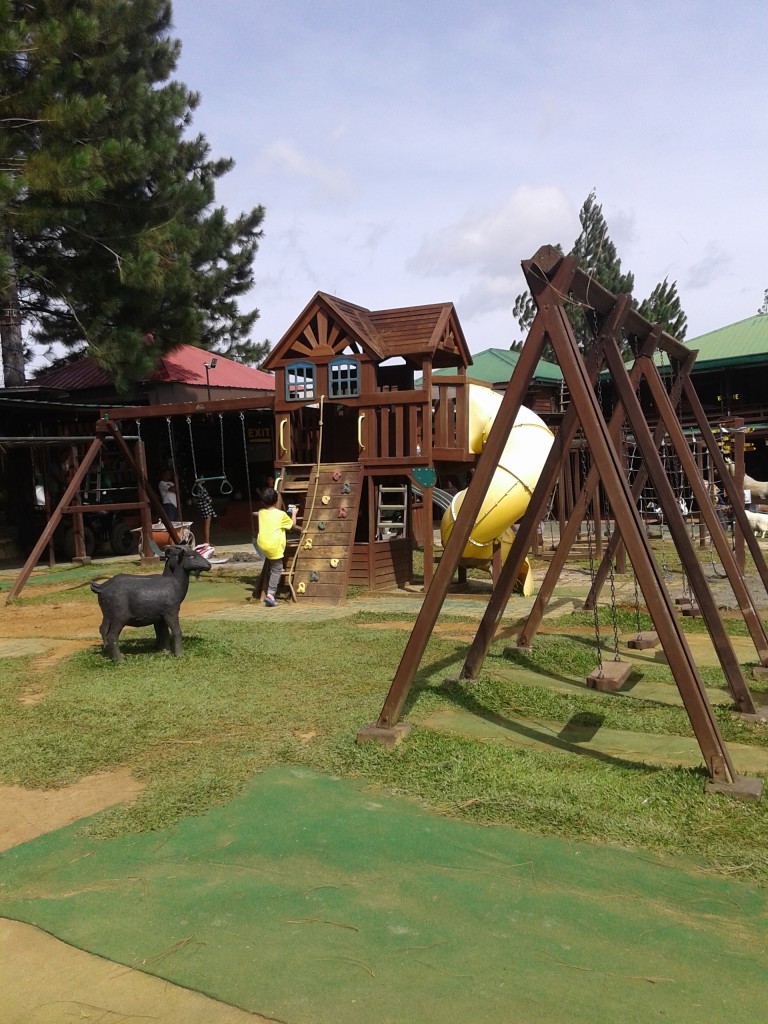 The Paras Family saw the potential of the area, and being a family of "gardeners" and nature lovers, they planted pine trees, flowers, and made beautiful landscapes all over that enhanced and brought out the natural beauty of Dahilayan. All these was visualized and later on further developed by the Paras Family as they prepared to eventually share this rejuvenating retreat spot with others.
In July 2010, what started out as a country home turned into a mountain resort, much like Baguio, but only better! This then, was how Dahilayan Forest Park Resort began as they imagined a family destination in a fog trail park with a dream-like sprawling playground on a mountain, picnic grounds amidst pine trees in the cool breeze, ATV trail rides and a zorb ball going downhill.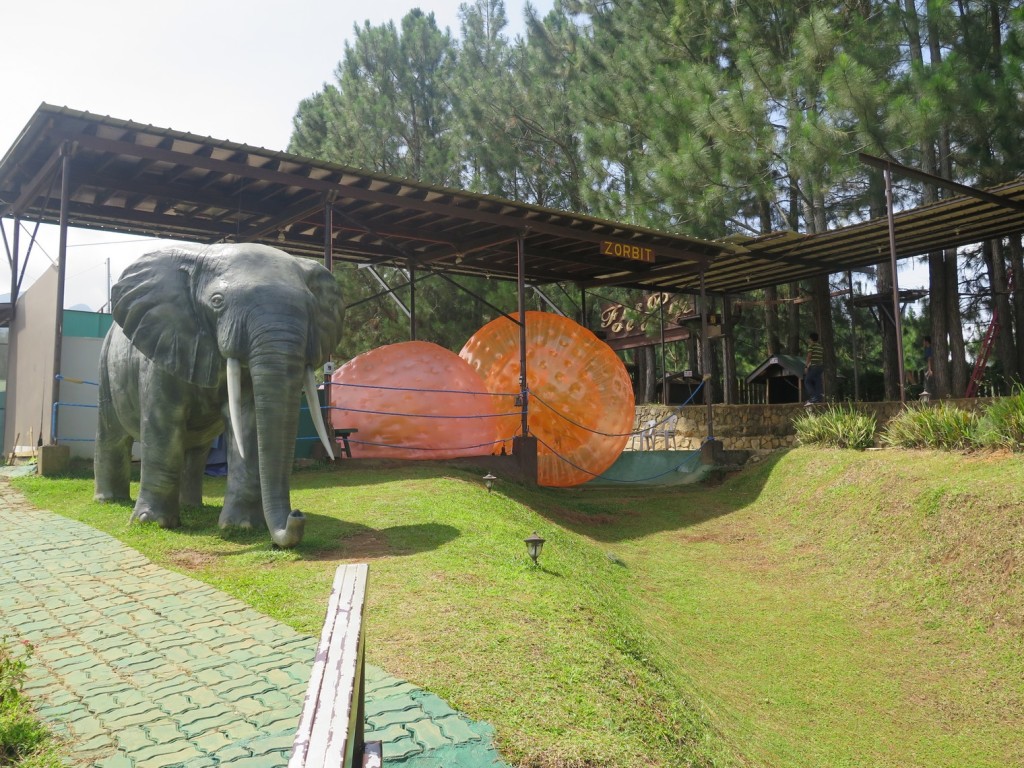 They initially built four hotel rooms for the guests, and it wasn't long after when the expansion and growth of the park became inevitable. Now with 30 hotel rooms and with 10 more under construction, it's undeniable how the park has gained popularity in the tourism industry.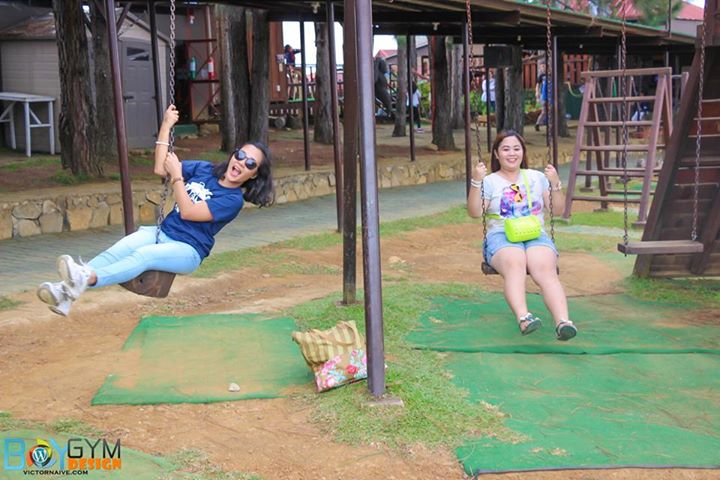 Surprised by the influx of people from all over the Philippines, the owners, Mr. and Mrs. Jess Paras felt the overwhelming need to create more activities for the families and guests of the resort. Inspired by their visit to New Zealand, they brought the luge ride to Dahilayan Forest Park; it is a sled that goes through a downhill track. But what makes this ride so attractive is the combination of speed and scenic views down a mountain.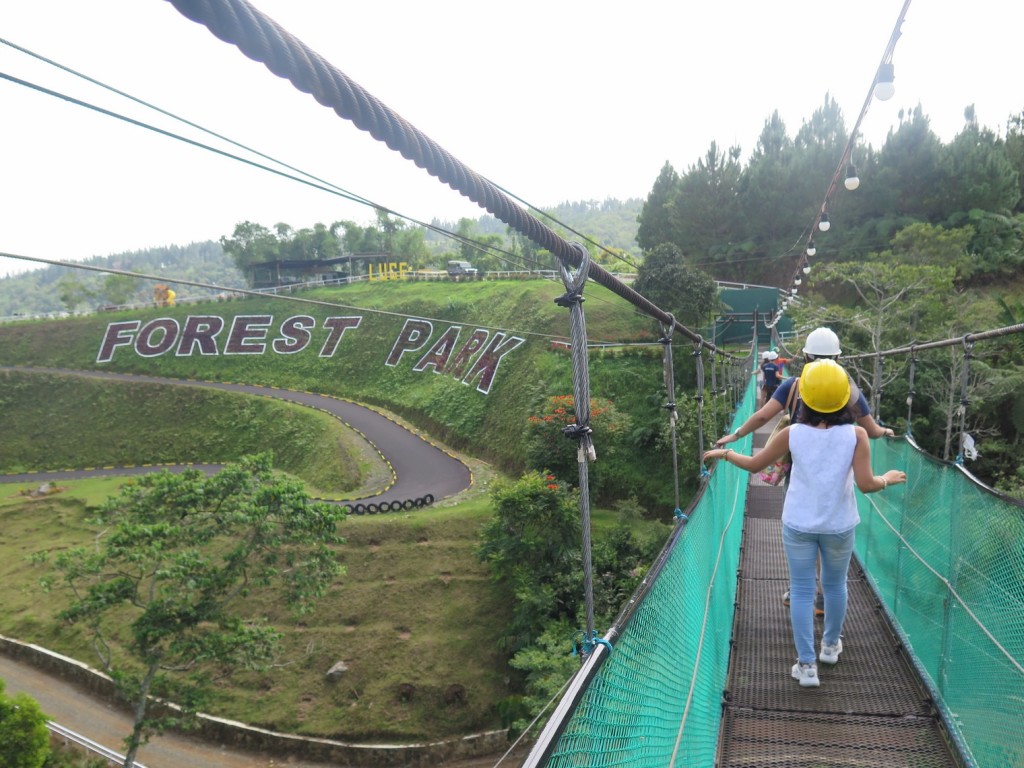 They built a hanging bridge that connects two hills to get to the luge from the park, with ziplines passing overhead, the Dahilayan experience is complete! As the Paras Family's passion and vision continues to grow, other rides, new park attractions and resort amenities have been slowly added to meet the demands of more guests, while they start to make their mark in the Philippine tourism industry.
The Forest Park Experience – Rides and Thrills to try out:
(Note: All rides and thrills mentioned here have professional supervisors, staff, and assistants to instruct and constantly guide the guests. The appropriate briefing, safety equipment, and safety measures are mandatory for all rides and thrills. All park personnel have been trained by the Philippine National Red Cross)
ATV and BUGGY TRAIL ADVENTURE RIDE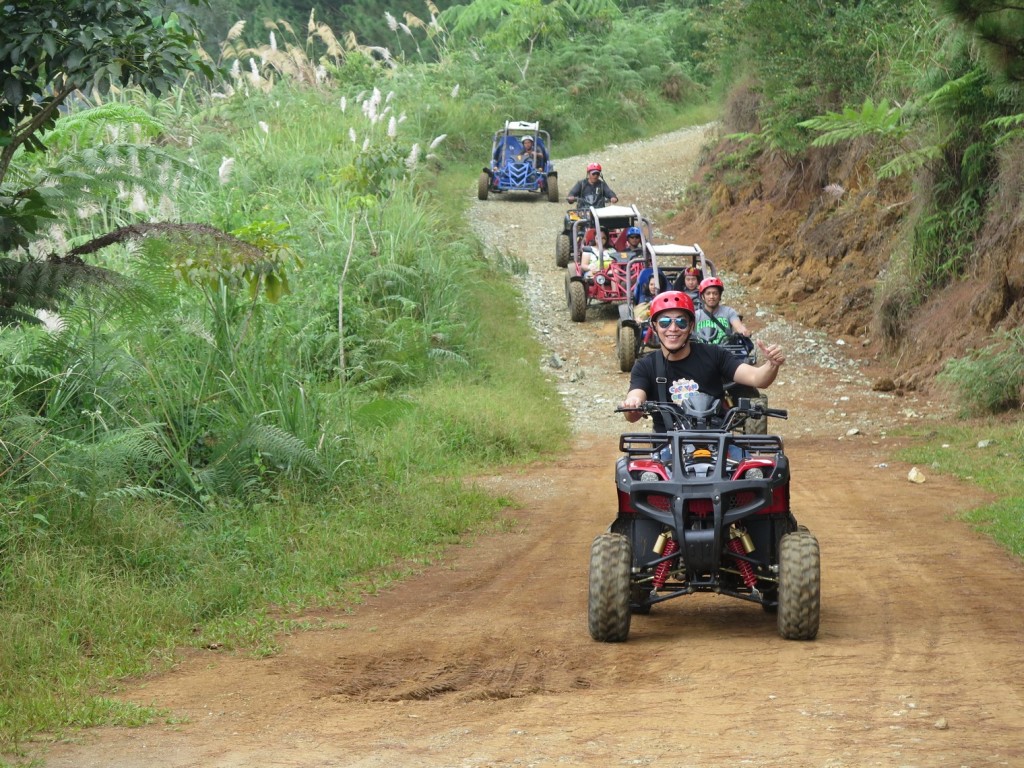 The ATV (All-terrain Vehicle) and Buggy ride is perfect for a family or group of friends to ride together through a long and exciting 3.5 kilometer forest road with semi-rough terrain. You can choose to either ride solo on the ATV or drive the buggy.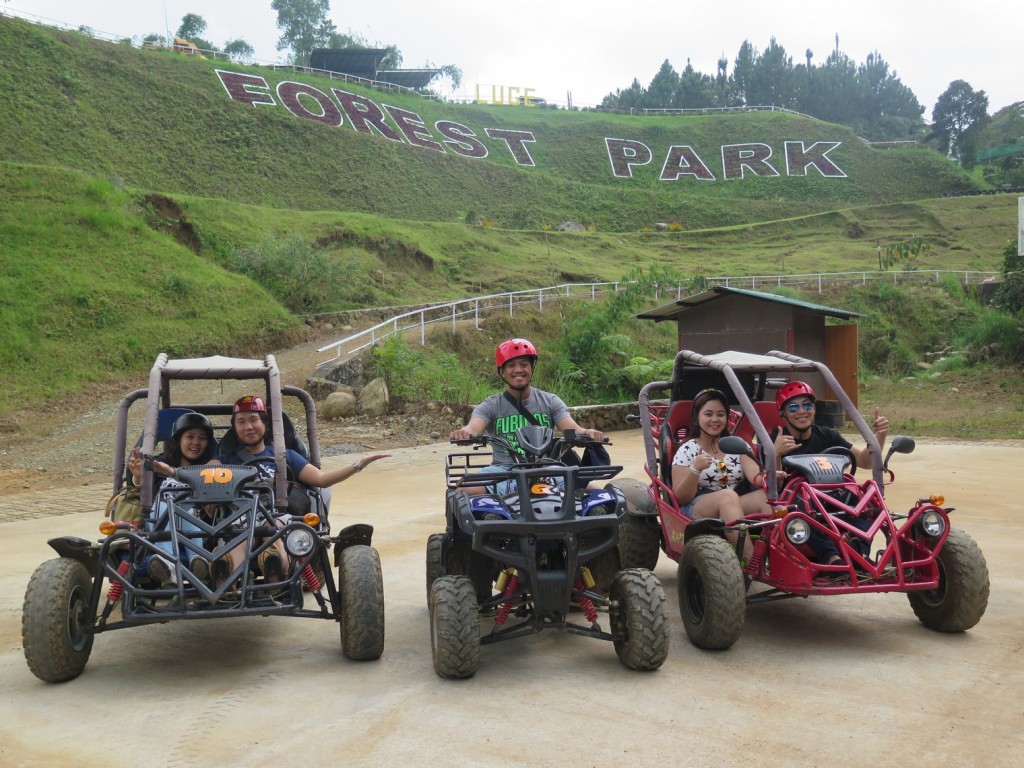 For those who don't know how to drive they can ride as a passenger on the buggy. There is a weight limit for the Buggy at 110 kilos for both driver and passenger.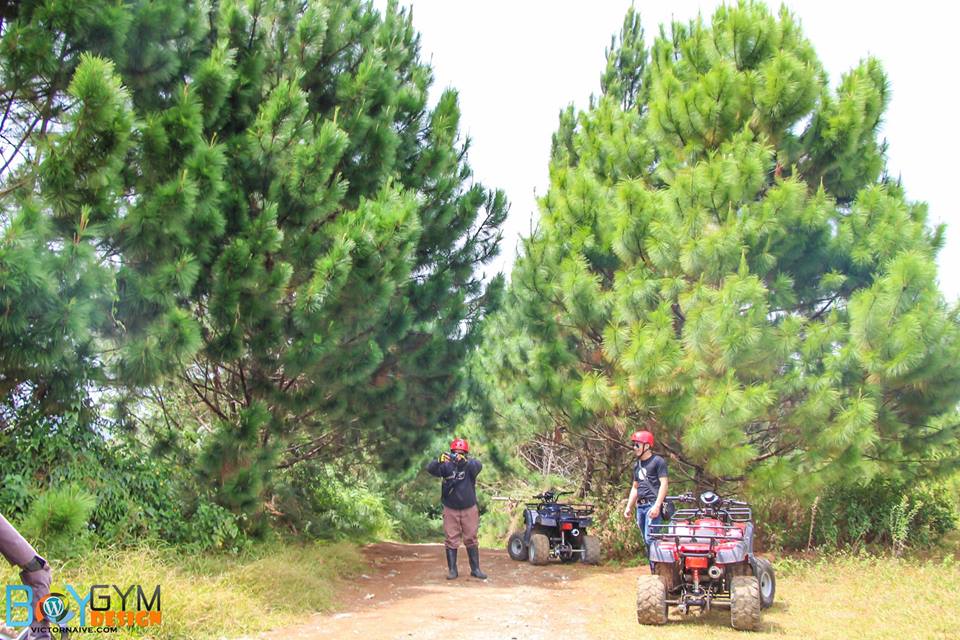 The rates are P750 for the ATV and P1, 000 for the buggy.
The forest road terrain features steep hills, amazing views, and many spins and turns, making the ride worthwhile and exciting!
LUGE RIDE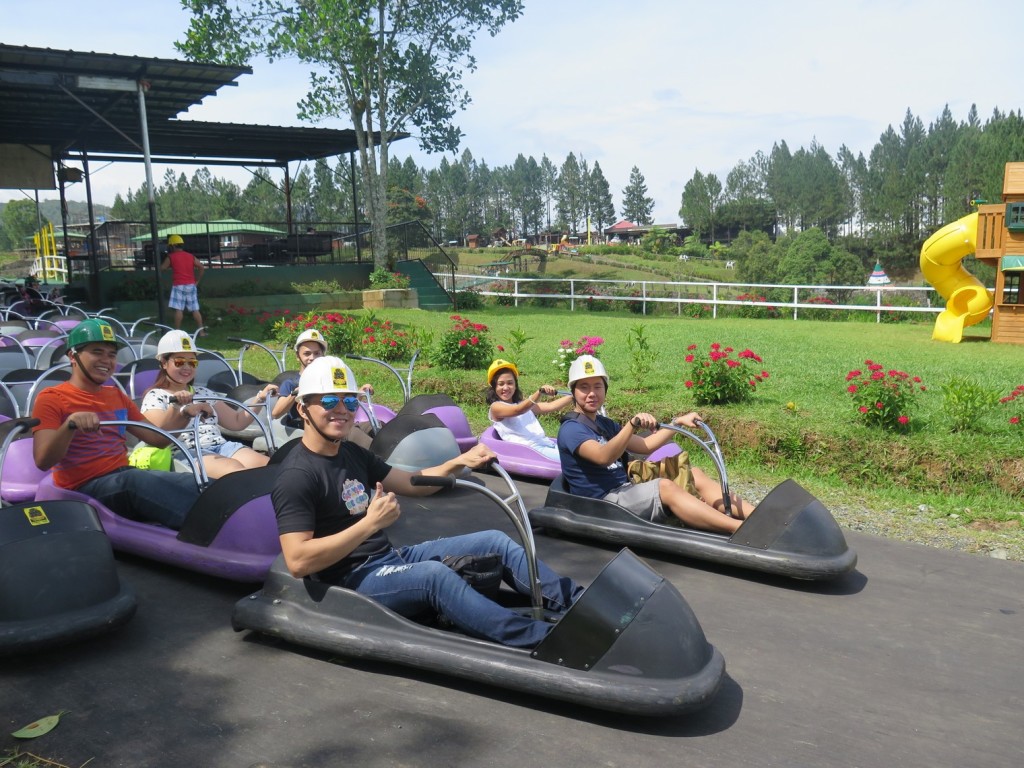 The Luge Ride as mentioned earlier is a downhill sled ride from New Zealand and is the only one of its kind in the whole Philippines.
The luge sleds are all manufactured and engineered abroad. The rate is P600 per person.
If obtained in a package it includes the ride itself, passage through the hanging bridge, and use of the Mini Golf Course.
ZORBIT
If you're looking for one-of-a-kind adrenaline rush, the Zorbit or Zorb Ball is just the thing. This is one ride that will have you literally going in circles.
The rate is P250 per person and is better experienced by pairs.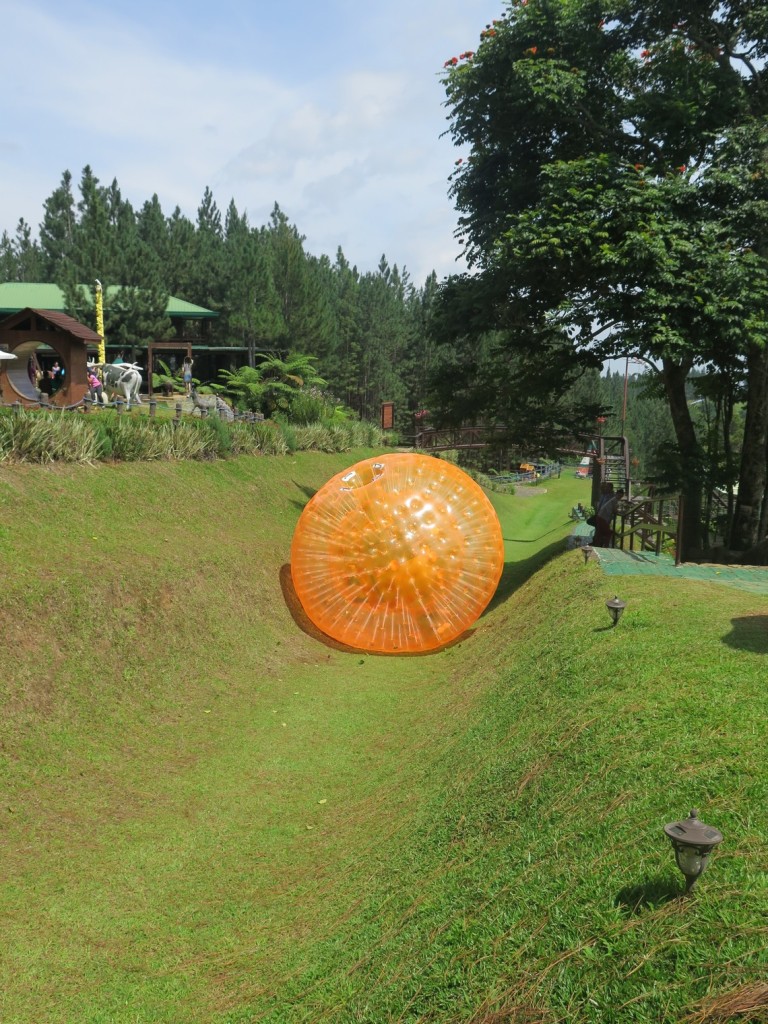 Each individual is buckled up inside the ball itself for safety because the large Zorb ball is released to roll downhill on its own power.
BUMPER BOATS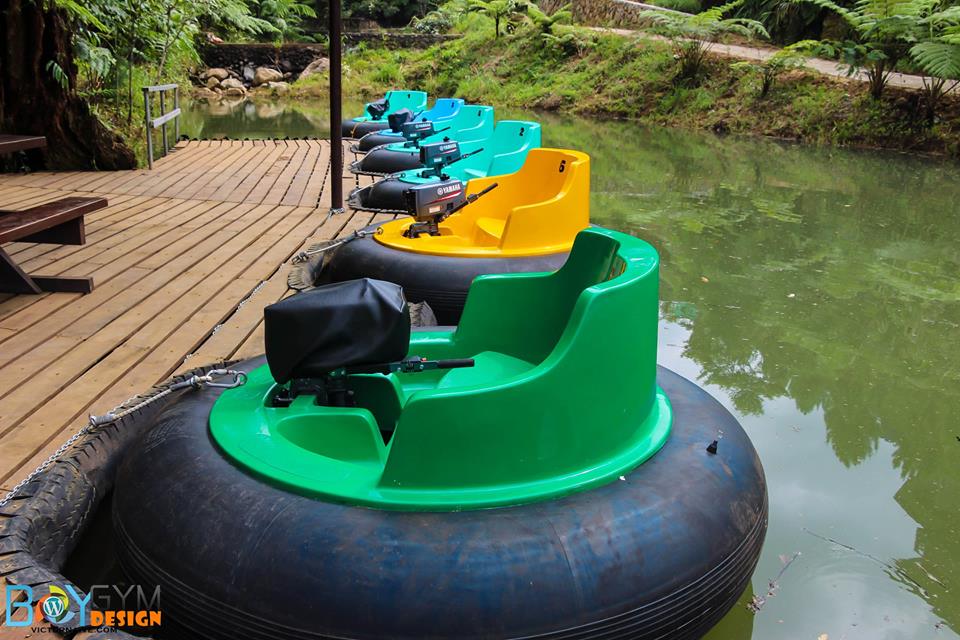 This is a new and special concept in the tradition of "bump cars." Instead, water is the main ground and Bumper Boats are ridden, singly or in pairs, and the boats can bump into each other just as you do with bump cars.
The boats are motorized and steered like normal motor boats. The ride is P250 per person; add an additional P150 if want a child to join in the ride.
Some people actually just ride the boats to relax and enjoy the view, minus the bumping around.
BARREL TRAIN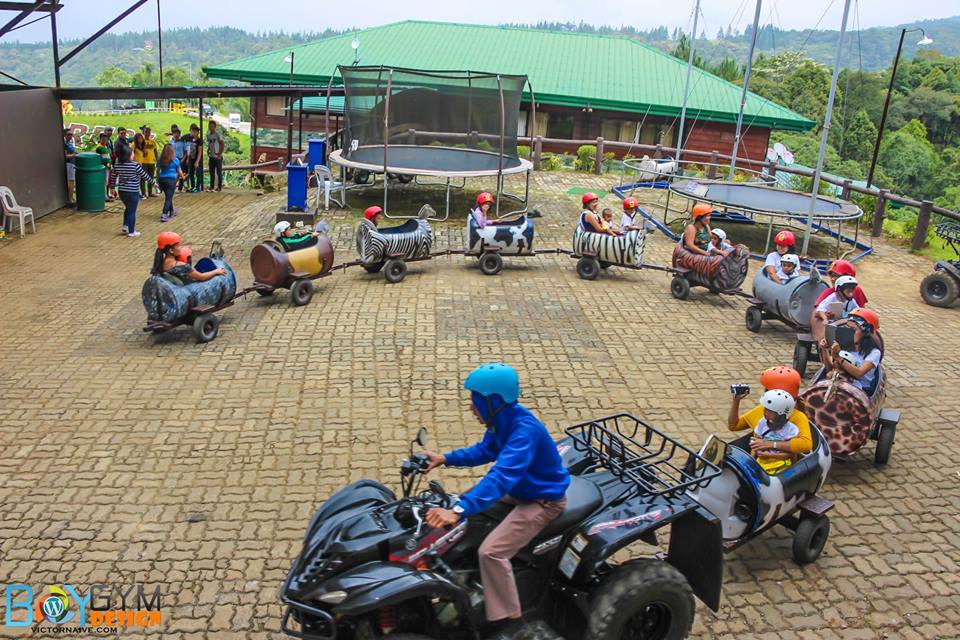 The Barrel Train is at P50 per person and is specially made for children, though adults can also ride when accompanying their kids. It has an animal theme, making it more attractive to the children.
HANGING BRIDGE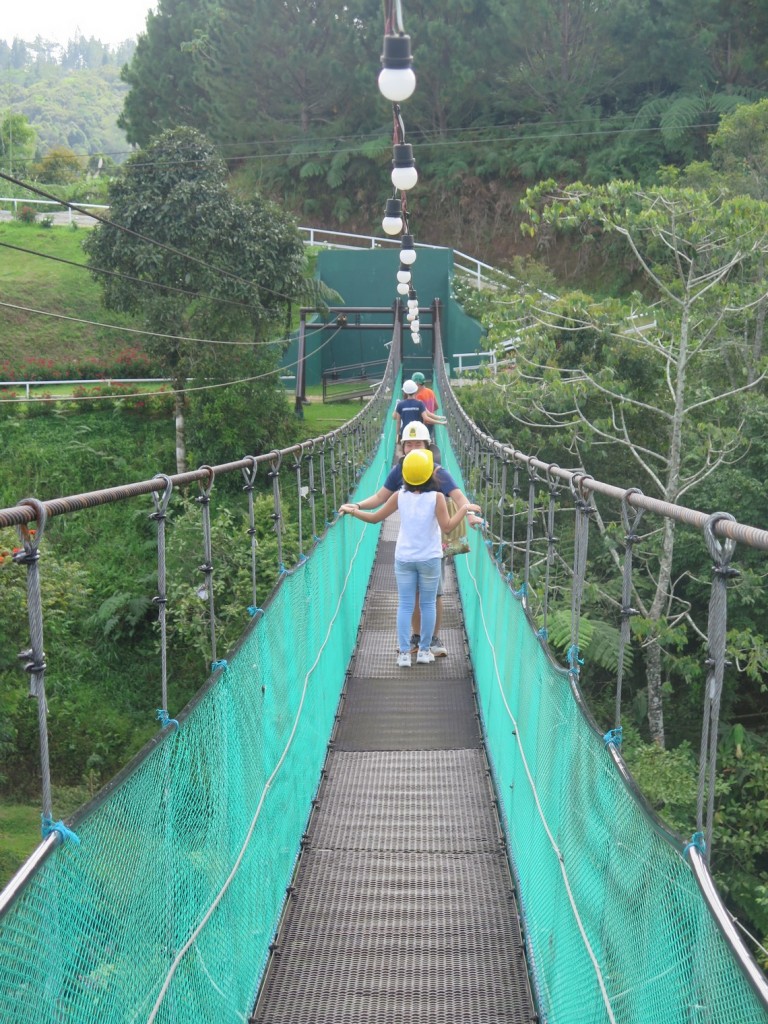 The Hanging Bridge is at P100 per person.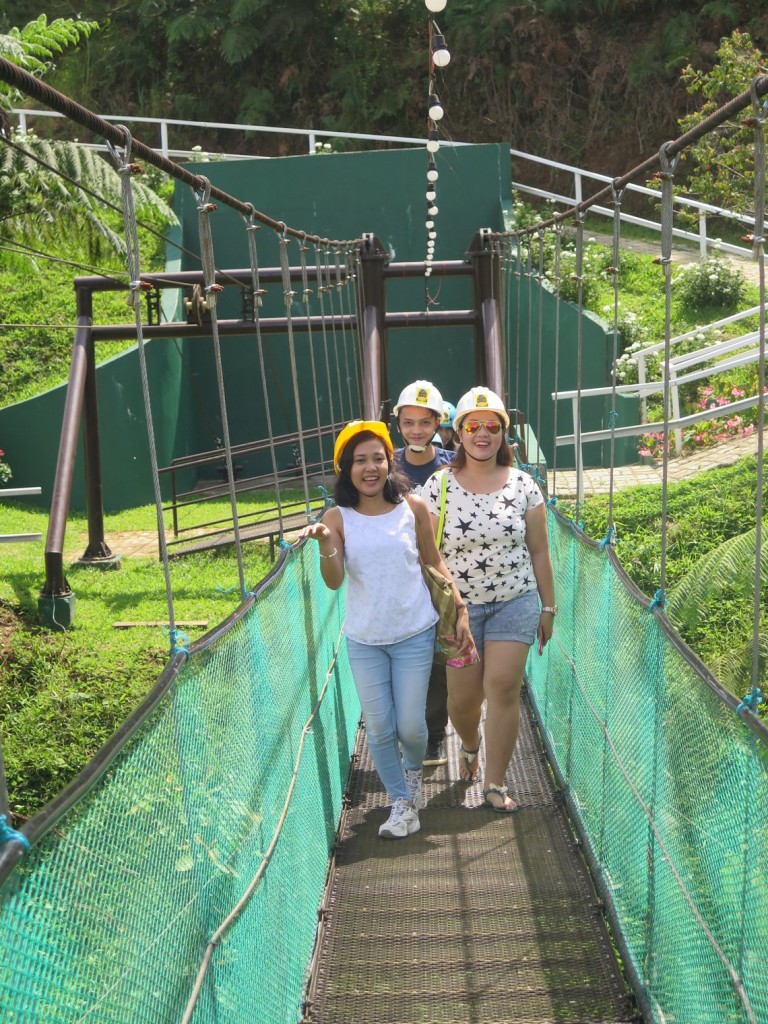 When crossing it you will feel the breeze of cold fresh air and relish the wonderful view as you walk in line.
FOREST PUTT MINI-GOLF
The mini golf putting course is at P150 per person.
Have fun and enjoy playing golf putting with your family or friends and even have contests and high scores.
TREE TOP ADVENTURE
At only P250 per person you can find this obstacle course in between the pine trees. Everything takes place at 8 to 11 feet in the air. You can have fun climbing ladders, walk through floppy bridges, zip across on a surfboard, and crawl inside tunnels in this 21-station adventure.
HORSE BACK RIDING
This activity is done outside of the adventure park and is fully owned by the locals. The park proprietors allowed this business venture among the local residents to earn income for themselves.
Forest Park Special Features and Amenities:
The Playground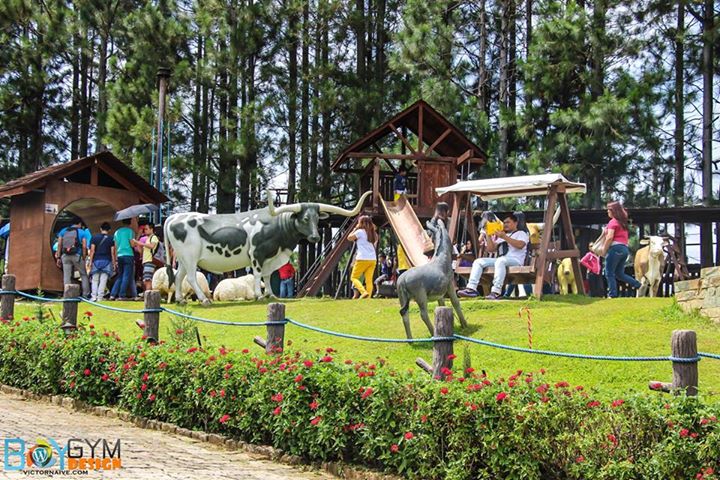 One of the main attractions of the park, it's hard not to notice the Playground upon entering the premises.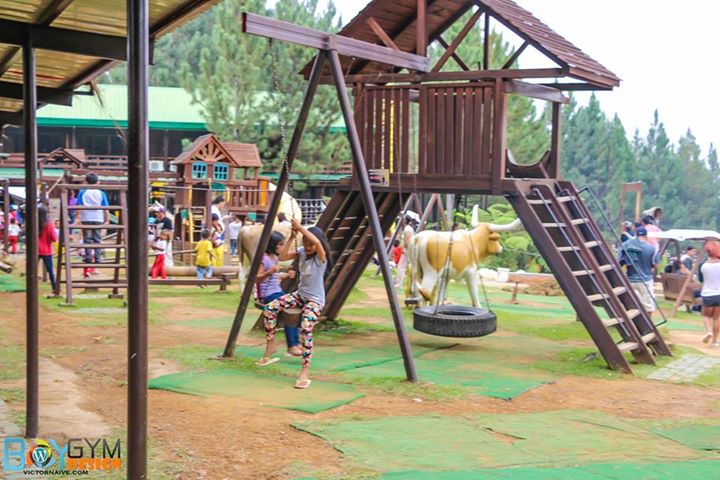 It is a welcoming sight especially for the children while the adults frolic around the Wild West Indian themed sculptures to take pictures.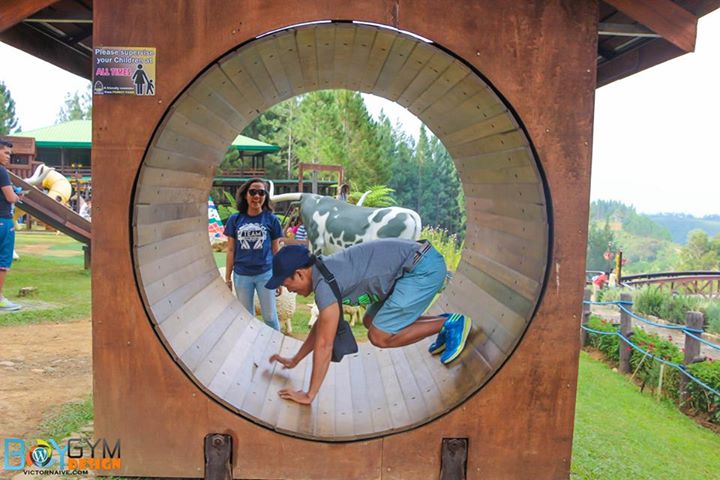 The slides, swings, monkey bars, and hamster roll are definite hits with the kids.
Animal Sculptures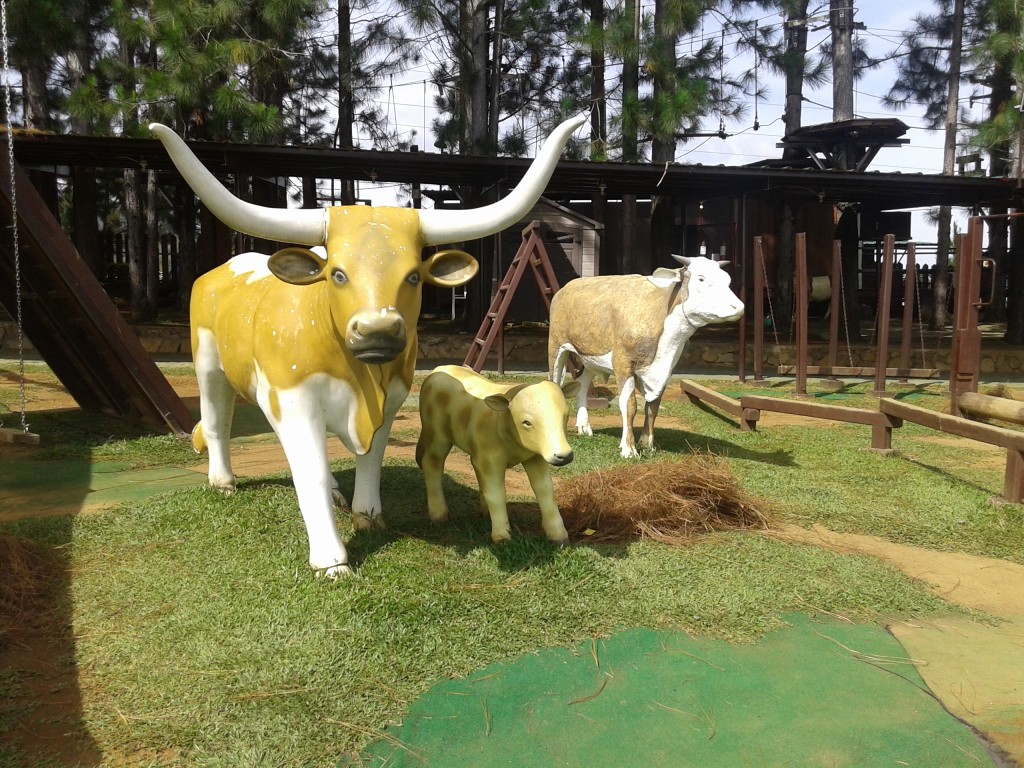 Another amazing feature of the park is the animal sculptures scattered around the area.
Guests love to take pictures with these sculptures that add to the beauty of the surroundings.
Fish Pond and Jacuzzi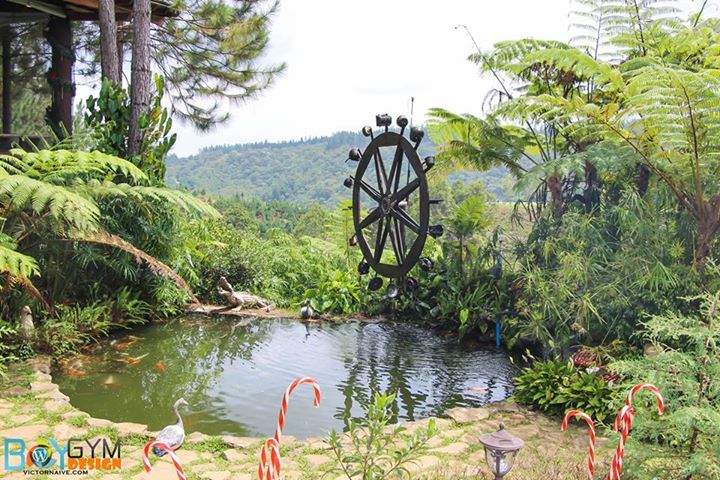 There are plenty of fish in the Fish Pond to gaze at or feed.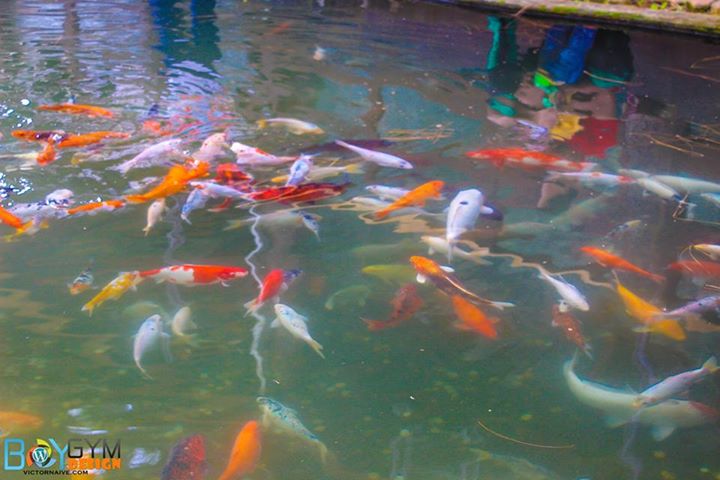 However, if you really feel like taking a dip, minus the Koi fish, a relaxing and stress releasing Jacuzzi is readily available. The rate is P300 per persons for a minimum of 10 persons.
Picnic Grounds
These grounds are truly made for picnicking with its scenic pine tree surroundings, cool atmosphere, and authentic oak picnic tables and benches.
Function Areas
Holding a party, seminar, wedding, corporate event, teambuilding activity, or any special occasion at the Forest Park will be the best thing you will ever do. They have packages to suit any kind of activity or occasion for your maximum accommodation. They can accommodate big functions of up to 300 persons in their big tent, aside from the function hall with a maximum capacity of 80 persons and a small function room for 30 persons.
Souvenir Shop
A park is nothing without its Souvenir Shop where you can souvenirs and memorabilia.
They have a wide variety of gift items like mugs, fridge magnets, caps, customized t-shirts, bags, scarves, umbrellas and the like.
Have a Taste of Appetizing Dishes at the Restaurant and Spend the Night at the Spectacular Hotel
Forest Park Resto Cafe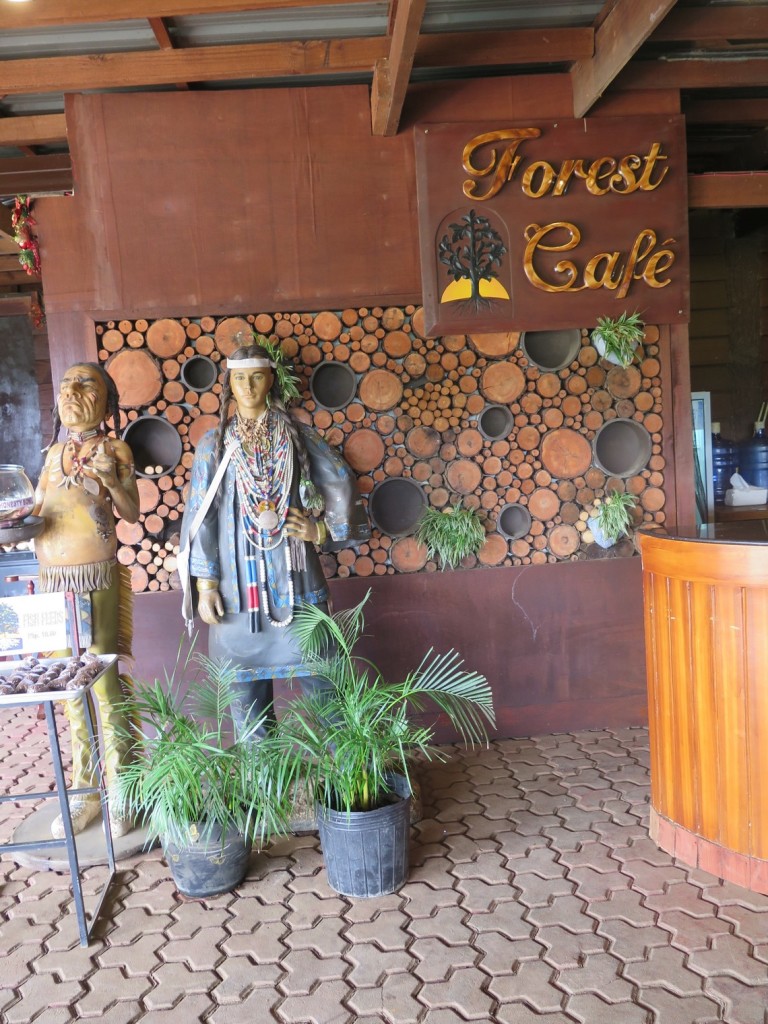 The Forest Park Café and Grizzly Bar is the official dining area for customers and guests.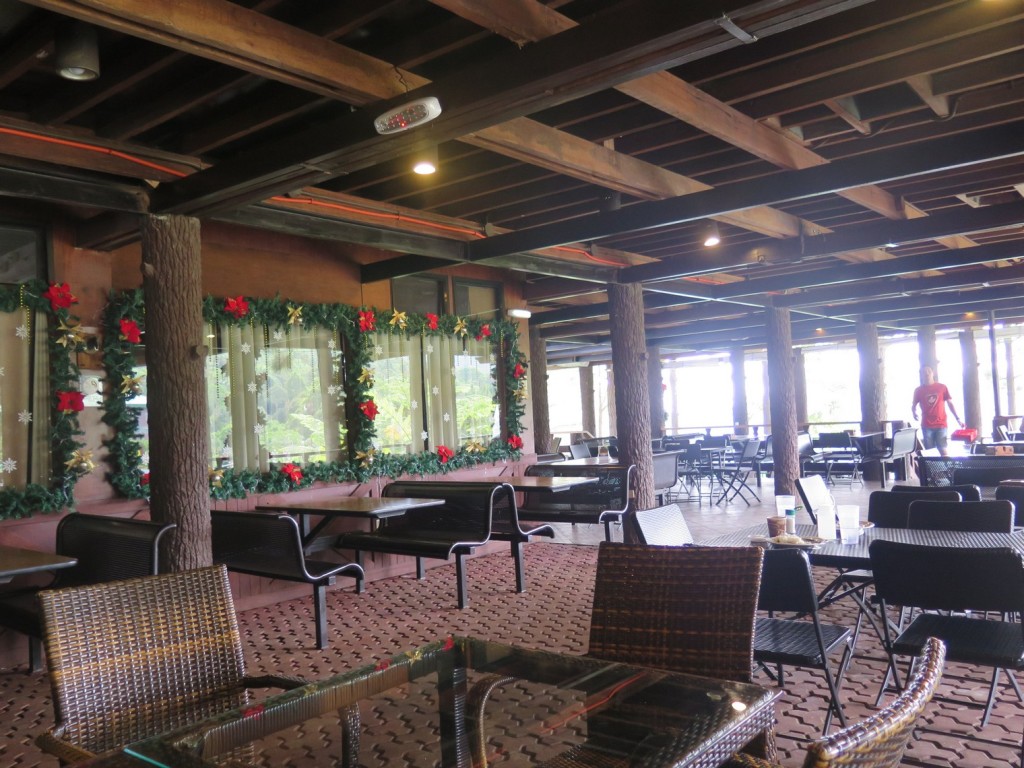 It has a forest theme with an amazing ambiance.
Not only does it offer a breathtaking view, but it also offers a delectable menu and dishes in the variety of Filipino and International cuisine.
Forest Park Hotel Accommodations
If you're planning an overnight stay or have a weekend vacation with family or friends, the hotel has a Mediterranean and Country feel to it with a cozy ambiance. You will surely have a great stay there because the rooms have a fantastic view of the forest and mountain scenery.
Room Rates –
Twin Room – P2, 800
Standard Room (Good for 3) – P2, 800
Standard Premium (Good for 3) – P3, 300
Deluxe Room (Good for 4) – P3, 200
Family Suite (Good for 6) – P5, 500
Forest View (Good for 4) – P4, 100
Forest View Suite (Good for 4) – P5, 000
Park View (Good for 3) – P3, 700
Forest Annex (Good for 4) – P4, 500
Barkada Room (Min of 12, Max of 25) – P500 per head
Each room is equipped with AC and cable TV, hot and cold shower, and heaters may be requested in case the guests have a hard time with the cold weather at night. Additional accommodation privileges include:
Waived Entrance fee
10% discount in Forest Park activities
50% discount on Jacuzzi use
Cooking and bringing of foods inside the room is not allowed and all rooms are non-smoking rooms.
Entrance Fees:
Weekend/Holiday/Peak Seasons: Adult – P100, Kids – P50
Weekdays: Adult – P50, Kids – P20
Picnic Ground Table Fees:
Weekend/Holiday/Peak Season: P200 per table
Weekdays: P100 per table
Contact Details and Transportation
For inquiries and reservations:
Telephone and Mobile Numbers –

(088) 880 4131/ (088) 855 0141
(+63) 917 715 4399/ (+63) 917 316 8922
(+63) 917 719 4398

Facebook Page: facebook.com/dahilayanforestpark
Official website: dahilayanforestpark.com
How to Get There
For those without vehicles, you can reserve seats at Magnum Express Shuttle. They have vehicles coming up at 9am daily from their station at Limketkai Mall and going back to cdo at 4:30pm.
Conclusion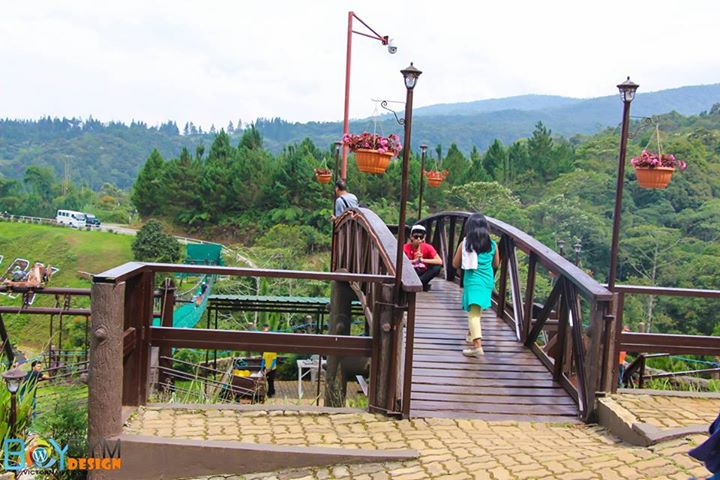 In this day and age of hard work and stress, relaxation and leisure is very important in our lives. Due to the fast-paced flow of our daily routine, it's nice to know that there's a nice place we can go to in order to wipe away the stress and spend quality time with family or friends. Thanks to Dahilayan Forest Park Resort, we now have the Ultimate Family Playground and a paradise away from home where we can sit back, take a break from the noisy city, explore the wonders of nature and have the most unforgettable outdoor adventure of our lives.