08 Aug

Dave's Beanery: Home of the Famous "Black Eye" Coffee, Cdo's Thinnest Pizza and the Best Brazo You Ever Tasted

Dave's Beanery Cafe is located at the corner of the Kauswagan Highway and Pelaez Boulevard beside Savemore Supermarket. It can easily be spotted when you pass by Savemore Kauswagan.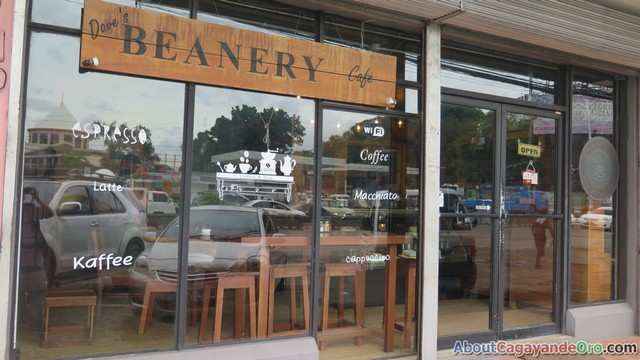 A second branch is now open also along Kauswagan Highway beside Jollibee at the entrance to the NHA Kauswagan Subdivision.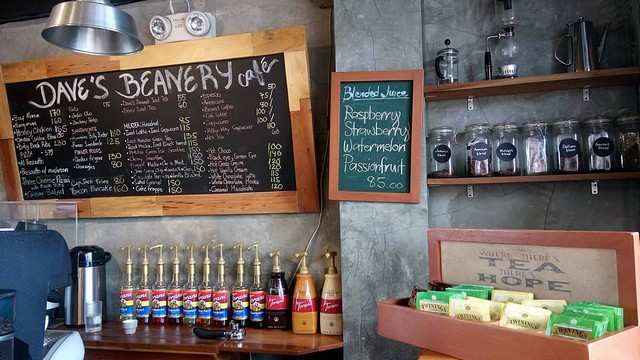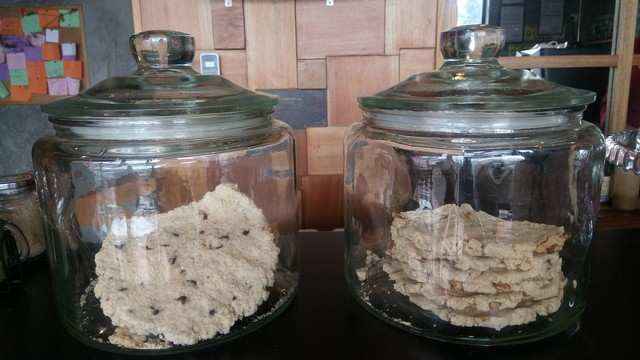 In all honesty, this is one coffee shop/cafe that serves really good coffee as well as delicious cakes and other foods.
The Concept Behind the Beanery
By degree and profession, Ms. Jaireen Castrodes, Dave's Beanery proprietor, is an interior designer and decorator. She also has a love for wood and the natural look it gives for the indoors. After designing furniture and wood works for a time, she decided to open a coffee shop since she loved baking and her husband loves drinking coffee.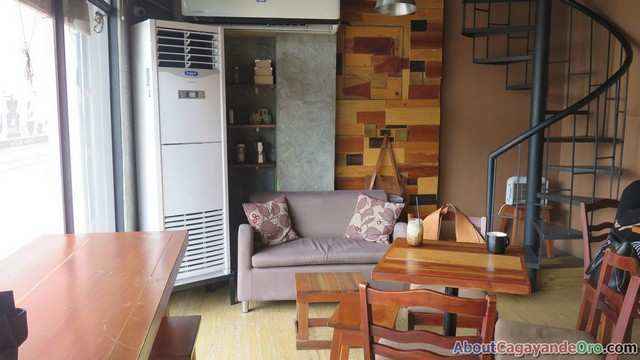 Jaireen got the café name from her son, Zachary Dave, adding the 'beanery' to identify the coffee part. The natural looking wood she uses inside her coffee shops are all purchased or picked up from used crates and other industrial wood either discarded or for sale. The wood is mostly bahi, a relative of rattan, and similar to the wood used for arnis escrima combat sticks. It is one of the hardest woods on earth. They also use mahogany and Gmelina when available.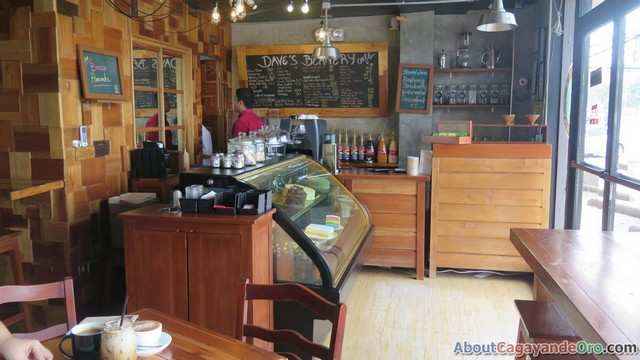 Jaireen designed her coffee shops from the bottom up, and all the wood she uses tells a sort of story about the café, the concept being that it is different from commercialized coffee shops wherein you just pop in quickly for a cup and then leave. Most of the wood and walls are unpainted to bring out the natural wood look.
The wood is also unstained and to clean it they have to buff it regularly to maintain the shine in it. Jaireen gets her inspiration and ideas for cakes, sweets, and opening a café from her elder sister who also owns a café and a restaurant in Manila. Because of this inspiration she is a quick observer and fast learner, being a self-taught baker.
Dave's Beanery only opened last July of 2013 at their first location beside the Savemore Supermarket. The second one beside Jollibee Kauswagan opened in 2014. The locations may be uncommon first for the untrained eye, since both coffee shops are away from the city center or malls. However, according to Jaireen, if you have good food, good cakes, and very good coffee, people will always look for you, or stop by when they pass through.
Meet the owner
Ms. Jaireen Lim-Castrodes is a pure Kagay-anon. After her high school days at Kong Hua School she went to Manila to take up a degree in Interior Designing. On her return to Cagayan de Oro she decided to take up Commerce at Liceo de Cagayan University. After working in Singapore designing furniture, Jaireen decided to return to Cagayan de Oro City, this also coinciding with the fact that she was getting married at that time.
She also loves baking and has been doing so since she was 6 years old. She would often invite friends and relatives to their home to taste her baking delights. In her elementary and high school days she would bring her baked goods to sell to her classmates and teachers.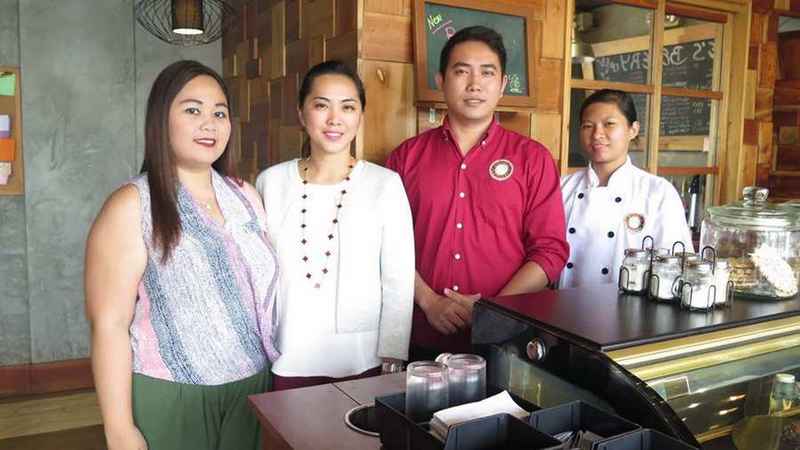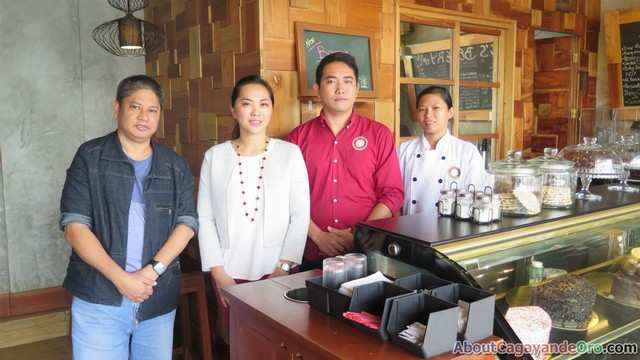 Never having attended any culinary school since she has "self-taught" herself in baking and other culinary arts, she has attended a few short courses at Monster Kitchen just to enhance her baking and culinary knowledge. Aside from her sister, another inspiration for her is the story of the owner of Mary Grace, a café and pastry shop in Manila.
That Beanery Feeling and Experience
Jaireen is proud to mention that they don't use any MSG or any artificial ingredients in their foods and even their cakes.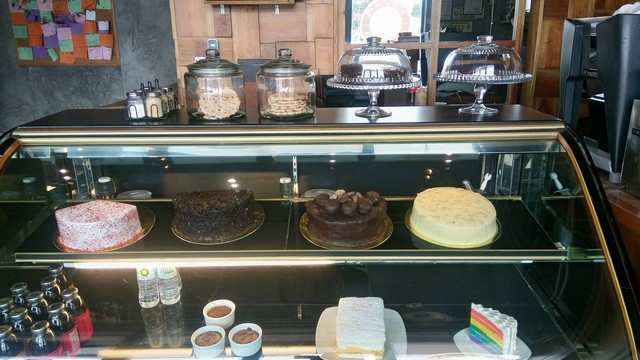 About the only ingredients nearest to "artificial" is the coloring they use for the Rainbow Cakes since they need to color the cakes to attract the kids.
For their foods, their best-seller and signature food is their thin crusted Al Prosciutto pizza (with or without mushrooms) and Three Cheese pizza with bacon bits.
They can lay claim that they serve pizza with the thinnest crust in the city. This is so the customer can taste what's on top of the pizza rather than getting busy with the crust. The pizza is definitely thin and you get to savor the delicious cheese and other stuff on top.
They also serve meals like Hungarian sausage, Honey Chicken, Baby Back Ribs, and Pasta. For their cakes the bestsellers are the Midnight Cake, a dark chocolate cake, hence the color and name, Carrot Cake, Cheese Cake, and their Brazo. They also serve blended juice in different flavors like raspberry and passion fruit. Of course being a coffee shop the choices for their coffee, tea, and Milktea are varied and adventurous.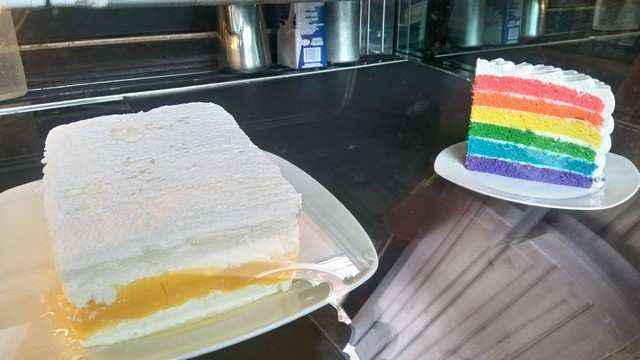 The Midnight cake and Brazo de Mercedes are just divine and heavenly. They don't taste like your usual choco or Brazo cakes served in commercial coffee shops.
For the coffee, their ultimate bestseller is the Black Eye. This is their strongest coffee and they can even lay claim that it's the strongest coffee that can be served in the city.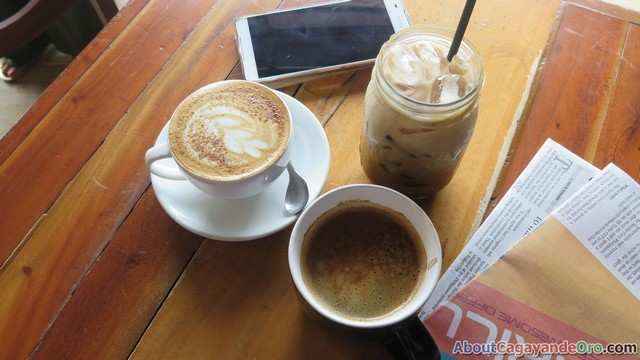 In fact, many foreigners and expats from around the city frequent the café just to order this particular brew. The coffee definitely has a "kick" if you want to wake yourself and, unlike strong brews from other commercial cafes, the Black Eye tastes delicious even without sugar and cream, something only real coffee connoisseurs would taste and understand.
Other signature coffee products that they offer are the "Iced Mocha" and Cappuccino.
Future Plans and Hours of Operation
Jaireen and the Beanery is actually looking ahead because in a few years when Laguindingan Airport goes international and the railway line from Cagayan de Oro to Iligan runs near the airport, this will see an increase of passengers passing through the café especially at night.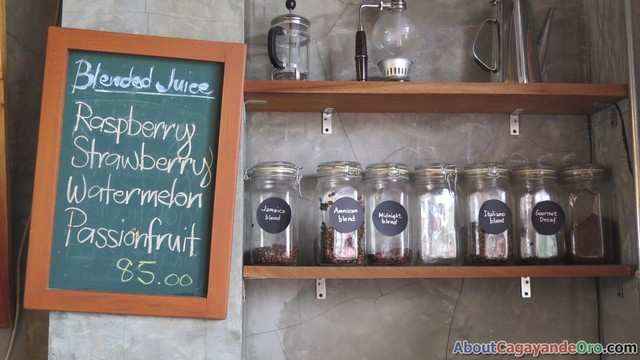 Dave's Beanery is open the whole week from 8:00 a.m. to 12 midnight, although on Sunday's they close earlier at 10:00 p.m.