18 Jul

Del Carmen Beach & Swimming Pool Resort: Creating memories that last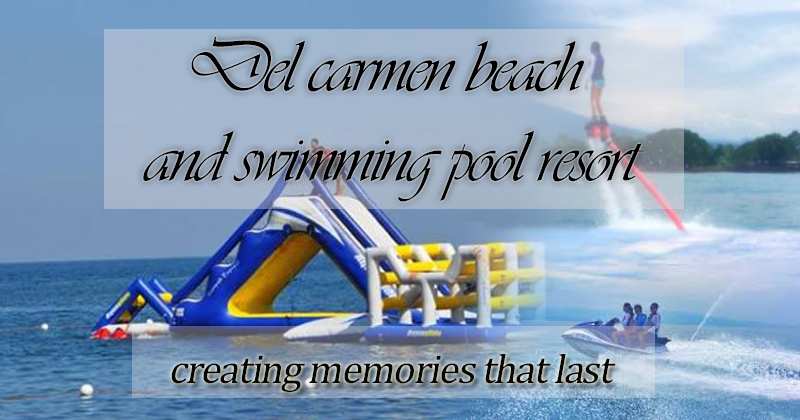 Need a place to chill out and relax or a place where you can enjoy swimming in the beach? Since there are already a lot of promotions of MisOr beaches and resorts you can find online, finding a place where you can be at peace with your family, friends, and even with nature is just a click away from the internet. One of the top results when searching for beautiful beaches and resorts in Misamis Oriental is the Del Carmen Beach Resort and Swimming Pool located at Barangay Kauswagan, Lagonglong, Misamis Oriental.
Del Carmen Beach Resort and Swimming Pool has all the things that you need to enjoy during the summer or anytime for a fun outing with your friends and family with only P100 per hour. Inside the resort is an aqua park with lots of water adventure activities. There you can enjoy riding a Banana Boat for 500 pesos per 5-minute trip. A stand-up paddle can also be rented for 200 pesos per hour and a tandem kayak for 300 pesos per hour. They also have a wooden bangka you can rent to sail for  200 pesos per hour. The all time favorite Jetski ride which can be rented for 3,000 pesos per hour is also available in the resort.
Before you could jump in the water and enjoy the different activities in the resort, you will be reminded by the park facilitators to refrain from carrying pointed objects since some of their facilities are vulnerable to pointed objects.  
The resort also has a clean and large-sized pool for visitors who just want to relax and have a calm and soothing feel while being submerged in the pool water. Overnight stays are also available in some rooms that are both affordable and convenient to stay in. With P1,500, you can rent the 1-bedroom Yellow room that is fully airconditioned and has a nice looking balcony available 2 persons occupation. The resort also has the Pink and Blue rooms each costs P1,200 with 1 bed for two persons, aircon, and a private bathroom.
  The place is perfect for family outings, team buildings, parties, and other official or non-official gatherings. The once in a lifetime experience that Del Carmen Beach Resort and Swimming Pool will give you will surely amaze you as well with the eye-captivating view, jolly ambiance, and their friendly workers. So come and visit now at Del Carmen Beach Resort and Swimming Pool and create unforgettable memories that will leave you craving for more.
Sources: