28 Oct

200 Affected Families of Demolition has No Relocation Site, City Council Asked for Postponement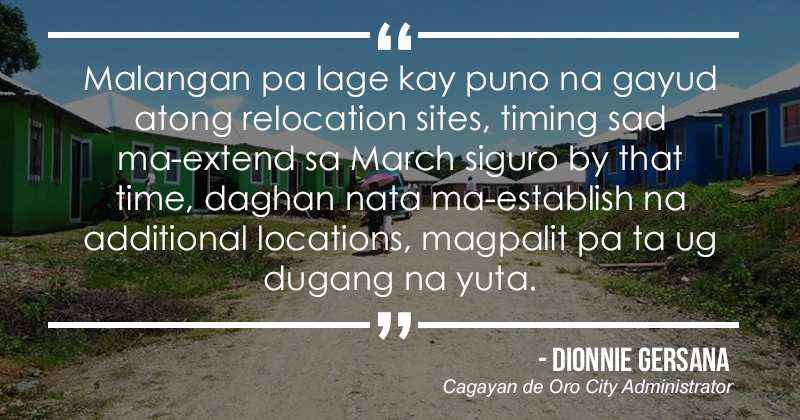 The city requires more time to relocate more than 200 families that will be moved in the three villages once the demolition is conducted on October 30, Cagayan de Oro City administrator Dionnie Gersana said
The city is requesting to have more time to look for relocation sites, Gersana said, adding that other relocation sites located in villages Canitoan, Pagatpat, Indahag, Balubal, and Camaman-an are all accommodated.
200 families from the barangays of Balubal, 31 and 36 will be relocated yet the city is still looking for a possible relocation site that could provide shelter for the affected families.
Around 20 families in Balubal, 140 families in Barangay 31, and 69 families in Barangay 36 will be left homeless.
Gersana stated, "Malangan pa lage kay puno na gayud atong relocation sites, timing sad ma-extend sa March siguro by that time, daghan nata ma-establish na additional locations, magpalit pa ta ug dugang na yuta."
The City Council already submitted a resolution requesting the two courts for the postponement of the demolition and rather conduct it in the month of March next year which marks the end of classes.
As the council is asking for an extension, the City Government, on the other hand, is searching for potential relocation sites for the affected families, according to City Councilor Zaldy Ocon.
The resolution is inscribed to Judge Eleuteria Algodon of Municipal Trial Court in Cities Branch 2 and Judge Gil Bollozos of Regional Trial Court Branch 21.
Gersana stated, "It's not simple kay kung muingon man gane ka ug relocation, dili man na pasabot nga ibalhin nimo sila nga walay kuryente ug walay tubig, bag-o man na nga mandate sa gobyerno nga stable gyud dapat ilang kabalhinan, because they are going to live there naman."
He added, "Dili mahimo nga walay relocation, a shelter is a primary concern. But it's a process, naa pay profiling, validation para masigurado nga they really are residents gayud diha. And it's a long process."
Several individuals offered their private property to the City Government, most of which are located in Lumbia, Ocon said.
Gersana said, "There is no need to worry about the availability of potential sites, kay daghan naman nag-offer ug titulo ug yuta sa ato, gusto nila ipapalit ang ilang yuta and could be made into a relocation site, so dili ta mabalaka whether or not naa bay site."
However, the postponement of the demolition was not asked for the first time, especially for Barangay 31 where the resident tapped the city council to support them in the demolition case.
Last June 2016, the City Government already requested an extension from Judge Algodon.
The residents, on the other hand, were annoyed to the repeated postponement as some parts of their houses were already destroyed.
A resident named as Panfine Vergara-Balaba, resident of Barangay 31 for at least three decades now, saying that the parts of her house were already demolished. As she spoke, "Actually, I have already demolished parts of my house as a voluntary compliance to the demolition order. However, as they keep on postponing it, we are not now sure what to do. All we can do now is to wait if those people from the city can give us relocation sites."
Another resident, Abel Mordeno, 27 years old, said, "We have been informed of the demolition a long time ago, however, nothing happened so we continue living here since it is not clear if they will transfer us to the relocation site. I am not really sure why we are being asked to demolish our houses but the demolition dates are always canceled so some people here stopped caring about it."
News Source: Sun.Star