11 Jul

If the People Will Deny Federalism, BBL will be Pushed Through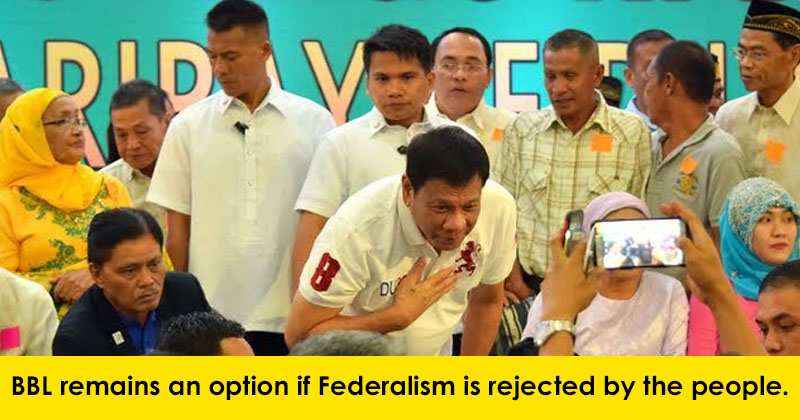 On Friday evening, July 8, President Rodrigo Duterte did not exclude the Bangsamoro Basic Law (BBL) as an option in case the people will reject his proposed federal system of government.
"I foresee that towards the end of the year, we'd be able to come up with the framework, kung paano gawin ang federalism. But, if the Filipino nation and a plebiscite would not want it, then I am ready to concede whatever is there in the BBL Law," said Duterte.
He also added, "Ready na kami sa aming group sa gobyerno to talk to the MILF." He said last week that he is willing to go to Jolo and talk to Nur Misuari, the founder of the Moro National Liberation Front.
"But I said, I assure that if there is no federalism, kung ayaw talaga ng the rest of the country, well then I said what you give to the MI, must be given to MN kasi pareho lang e. I hope that we can have peace in the land," said Duterte.
He also added, "tatanggapin natin sa isa't isa. Let us build a nation that will be founded on peace and understanding."
The time of conceiving such vision of our new president might not come too soon but he assured that it will come under his term. He said, "Ang tingin ko, with the grace of Allah, I might be able to do this within six years. It will not come overnight. Certainly, it will not come next year. Probably, it will be something about two to three years from now. But I assure you that something will change before I end my term."
"But, that should not keep us apart from being Mindanaoans. For all you know, you must realize that most of the Christians here in Mindanao, your brother Christians, are supporting the federalism and the BBL," he said.
Both of the MNLF and MILF agrees to help in drafting the proposed law.