30 Jun

DepEd Reports 45% Decrease of Enrollees in CDO for SY 2020-2021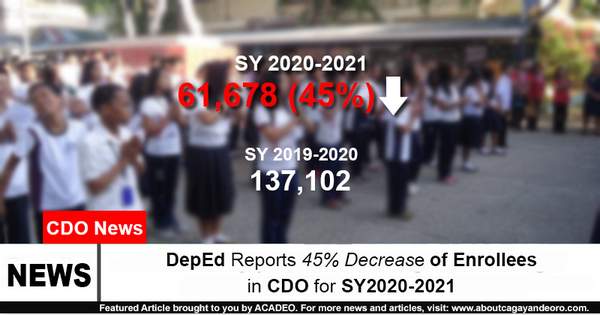 Mga higala! The Department of Education (DepEd) reported that as of June 26, 2020, they observed a decrease in the number of enrollees this year.
According to DepEd, the rate of enrollment in Cagayan de Oro dropped by about 45% (61,678) compared to the figures of last year (137,102).
Claiming the highest percentage of enrollees is from senior high school while the lowest percentage comes from kindergarten.
It is understandable that what caused the drop in the number of students enrolled this year is the existing coronavirus disease 2019 (COVID-19) pandemic which is yet to be concluded until a vaccine is available.
DepEd is continuing their preparation efforts if ever the classes will start by August 24 of this year. They are doing their best to be able to provide all modalities such as online, modular, and televisions, and radios needed to deliver quality education amidst the pandemic since face-to-face classes are still discouraged.