02 Jun

Dessert Shops in CDO That Can Arrange Dessert Corners for Your Intimate Events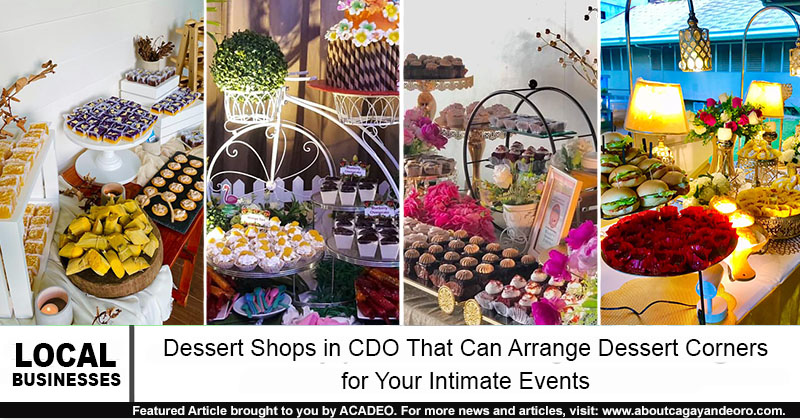 Are you a fan of good desserts? If yes, then you find dessert buffets awesome, right?
Imagine a table adorned with flowers and letterings and then filled with different kinds of desserts placed on wooden boards. You are seeing cupcakes, chocolate bars, macarons, brownies, sugar cookies, pretzels, and more. A heavenly scene, right?
Now, if you have an upcoming intimate event, having a dessert station will make your celebration fun and sweeter. Here are dessert shops in Cagayan de Oro that can arrange a dessert corner for you!
bakewithchris.ph
Bake with Chris offers dessert stations at events; we offer our signature cakes like the Yema Cheesy cake and our other pastries such as our french macaroons, leche flan and more.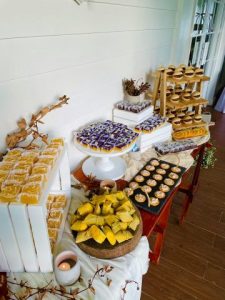 Due to the pandemic, we ensure the safety of the guests. Normally we would place the desserts in an individual box per guest to ensure safety for everyone. 
As a supplier, we also adapt to the changing times. 
📩 for inquiries and reservations, you may visit their page @bakewithchris.ph on Facebook and Instagram
📱 contact them at (0917) 511 9924
Zee's Pastries
Have your dessert stations set up by one of Monster Kitchen's alumni, Chef Clau of Zee's Pastries.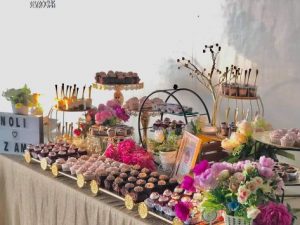 They offer dessert table set-up as well as customized cakes for special occasions.
Just a quick history, Chef Clau started as a home based baker with baking as her hobby which then turned into a business. They have been running for 9 years in the business.
📩 for inquiries, you may visit their page @zeespastries on Facebook
📱 contact them at (0936) 508 2556
Sweet Lane Homemade Treats
Sweet Lane Homemade Treats offers a variety of desserts like cookies, coco custard macaroons, no bake cheesecake and black sambo. People can opt to mix and match their desired dessert table set up depending on the package they would choose to avail.
📩 for orders, you may visit their page @sweetlanehomemadetreats on Facebook
🚚 FREE DELIVERY within CDO city proper
Tuazon Cakehouse by SandyLou
Make your event more attractive and fun with Tuazon Cakehouse by SandyLou's dessert buffet table set up that also comes with a cake.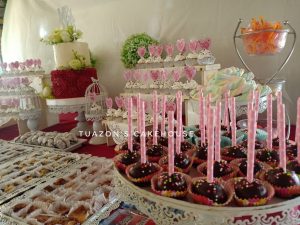 📩 for inquiries, you may visit their page @sandyloutuazon on Facebook
Wenzkytchen Catering Services
Looking for hassle-free packages such as dessert buffets? Check out Wenzkytchen Catering Services.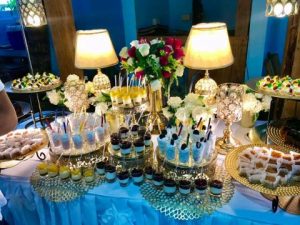 📩 for inquiries, you may visit their page @tintinpogay2019 on Facebook
📱 contact them at (0917) 660 8414 / (0945) 711 0975
Delightcasies Cdo
Delightcasies Cdo offers baked goods such as butter and chocochip cookies, revel bars, and brownies. Also, you can hire them for a dessert buffet.
📩 for orders, you may visit their page @delightcacies.cdo on Facebook
🚚 FREE DELIVERY
The Cake Fairy CDO
Having plans on throwing a party for your circle of friends? The Cake Fairy CDO got you covered!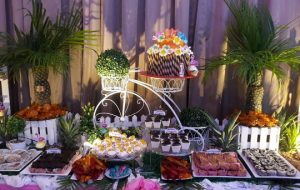 They offer a variety of dessert buffets depending on your desired theme.
📩 for orders, you may visit their page @thecakefairycdo on Facebook
🚚 delivery via Maxim
Complete your intimate events by having a dessert station where you can enjoy sweet treats with your loved ones. Share your experience with us through the comments below!
With regards to having events, please make sure to always follow safety protocols such as social distancing and wearing of face masks and face shields.
To learn more about these businesses, go to our CDO Listing. Want to be added? Contact us!