11 Oct

DOE Intensified Surveillance Against "Bote-Bote" Petroleum Business in Mindanao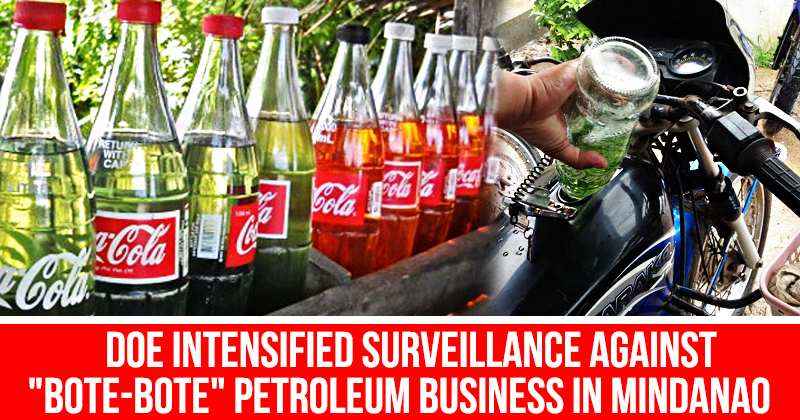 Reports of alleged smuggling, predatory pricing and unlicensed retail sale petroleum products urged the Department of Energy (DOE) field office in Mindanao to intensify their monitoring of oil trading business on the island.
According to the Department Circular No. DC2003-11-010 or the "Retail Rules," the "bote-bote" or the selling of gasoline and diesel packed on soda bottles, plastic bottles, jugs, among others is prohibited.
The DOE field office together with the local government units is "aggressive" in surveilling Davao provinces and cities, Cagayan de Oro City, Bukidnon, Agusan del Sur and Zamboanga del Sur concerning the "bote-bote" business. Fuentebella said that peddled fuels in some areas in Mindanao were seized.
On October 10, Monday, DoE Undersecretary Felix William B. Fuentebella spoke before the reporters, "The Mindanao field office is looking at all these three angles."
Fuentebella said that the department has been furnishing the Bureau of Customs in the region about the information on oil stocks that would enter the country as reported by oil importers. He added that the department wants to strengthen its interagency coordination.
Fuentebella also said that the Department of Finance proposed to impose excise taxes on petroleum products which might cause the smuggling.
The Finance department aims to compensate for the foregone revenues that will effect the proposed reduction of personal income tax and corporate tax which made the department, to raise the excise tax on gasoline and diesel.
The excise tax for diesel is zero yet for the gasoline, its tax is P4.35 per liter, as of today. In addition to the excise tax, a value-added tax of 12 is imposed on both diesel and gasoline.
The oil companies in Mindanao hold to "accuse and prove" that the predatory pricing exists, Fuentebella said.
He stated, "What the DoE got were letters and not formal complaints." He added that it still not certain that a case could be filed.
The DOE last month tapped on oil companies running in Mindanao to explain reports of "unusual price reductions" in gasoline, noting that the scheme may be "breaching provisions" under the law.
News Source: Business World