17 Sep

DOH-10 Advises Against Use Of Ivermectin vs COVID-19

Mga higala! The Department of Health Center for Health Development of Northern Mindanao (DOH-CHDNM) has released an advisory stating that they do not recommend the use of IVERMECTIN to prevent or treat COVID-19 infection!

ICYDK, Ivermectin is a medication used to treat certain parasite infestations (e.g., humans: head lice, river blindness | animals: heartworm, acariasis).

The said advisory emphasized that DOH firmly believes in Evidence-Based Medicine (EBM) and various studies have shown that:
Ivermectin DID NOT SIGNIFICANTLY REDUCE the risk of death among patients with mild to severe COVID-19.
Ivermectin DID NOT SIGNIFICANTLY REDUCE the duration of hospitalization and the time to resolution of symptoms/
Ivermectin DID NOT REDUCE deaths, reduce the need for mechanical ventilation or supplemental oxygen, or unwanted events in inpatients.
Ivermectin DID NOT increase or reduce negative COVID-19 tests.
Ivermectin DID NOT IMPROVE outpatient's condition.
Ivermectin DID NOT PREVENT confirmed COVID-19.
For the full details, read: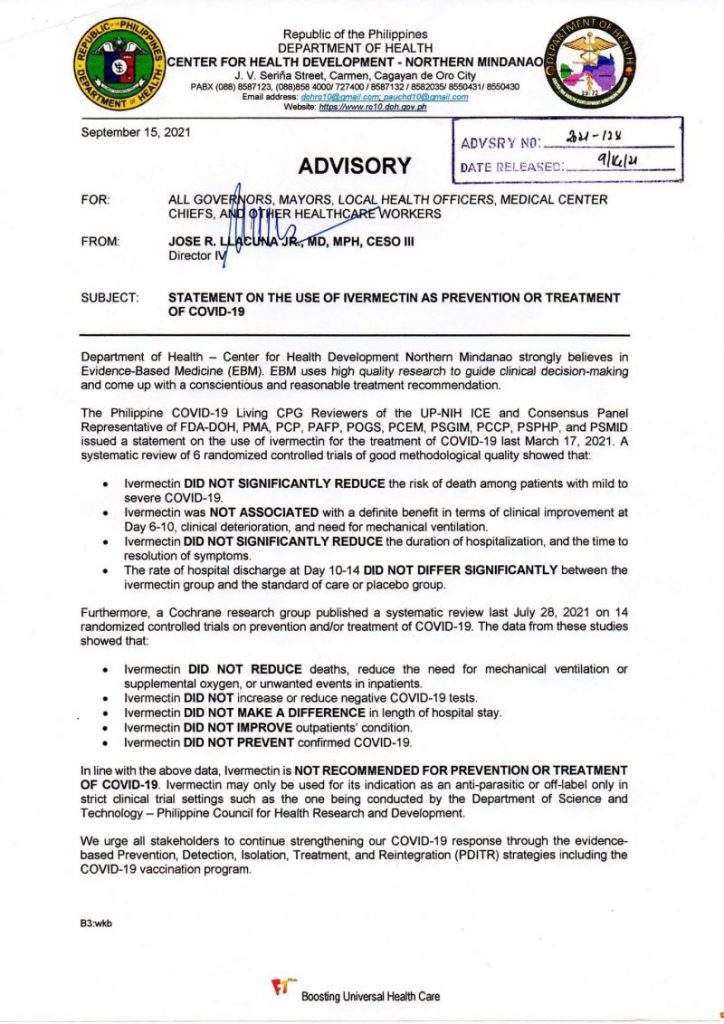 You can also read:
https://www.fda.gov/consumers/consumer-updates/why-you-should-not-use-ivermectin-treat-or-prevent-covid-19
Source: