25 Oct

DOH Integrates Oral Health Care to 'Garantisadong Pambata' Program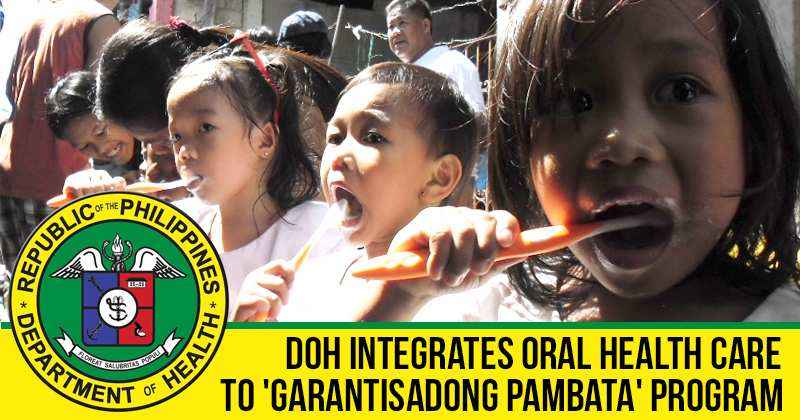 The Department of Health (DOH) includes the Oral Health program into the 'Garantisadong Pambata 2016,' a bi-annual program to support several health programs to lessen childhood illnesses and deaths by promoting positive child care behaviors.
Oral health being integrated into Garantisadong Pamabata program will be helpful as it is also needed in the overall wellness of a child, Dr. Gisan dela Peña, dentist of DOH region 10 said during Talakayan sa PIA', a media forum hosted by Philippine Information Agency (PIA) region 10 on October 19, Wednesday in Cagayan de Oro City.
A child won't be totally healthy if one's child has a problem with oral health as the child cannot eat food properly Dela Peña said, adding that oral health is part of the overall wellness and nutrition of a child.
Gum problems or cavities usually develops to kids aged six and below due to poor eating habits. This could lead to malnutrition and could lose socialization with other kids and even other people. A toothache is also one of the reasons why kids do not want to school leads to several absences.
DOH aims to control oral health risk among children and to increase orally fit children, according to Dela Peña.
As of today, 3% of children are orally healthy and the department intends to increase it by 12%.
The dental department of DOH in region 10 conducts consultative meetings with public health dentists twice a year. They distribute donates filling supplies at rural health units for children and also distributes toothbrush and toothpaste to pre-schoolers.
The department also conducts outreach activities and deliver mobile vans with complete dental facilities across region 10 to reach out households who do not have access to oral health care.
Oral health awareness for pregnant women was also conducted by DOH. It also intends to establish dental clinics in rural health centers for everyone to utilize.
The moment babies are having their first tooth, parents should seek an orthodontist or dentist to ensure that the teeth development of the child will be monitored and that parents are guided, Dela Peña advised.
Garantisadong Pambata is a regulated national pre-schoolers health campaign carried every month of April and October each year for all children aged 0-59 months. This campaign encourages healthy practice such as breastfeeding exclusively for six months, full vaccines to children, giving of Vitamin A supplements, washing hands with soap and water, brushing teeth, proper use of toilets and keeping homes cigarette-free.
News Source: Philippine Information Agency