17 Apr

DOLE Suspends Application Acceptance For COVID-19 Financial Assistance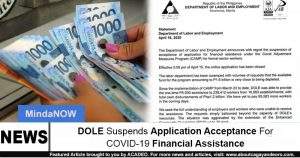 Mga higala! The Department of Labor and Employment (DOLE) has announced they have suspended the acceptance of online applications for financial assistance under the Covid Adjustment Measures Program (CAMP), for formal sector workers affected by COVID-19!
This is due to the fact that they have been overwhelmed by the number of requests and that the P1.6 billion fund for the program is almost depleted.
DOLE is now only processing approved applications.
"We seek the full understanding of employers and workers who were unable to receive the assistance. The requests simply ballooned beyond the capacity of DOLE's resources. The situation was aggravated by the extension of the Enhanced Community Quarantine (ECQ) up to 30 April." -DOLE
For more details: