30 Oct

Donatello's Kitchen – Your Favorite Food Stop for Italian Gourmet Dishes in Personalized Take-out Platters

Donatello's Kitchen is a new "create-your-own-platter food cart" located at the Divisoria Arcade on R.N. Abejuela Street (beside Dunkin Donuts). They are open from 10:00 a.m. to 8:00 p.m. on weekdays and they close longer on weekends. They serve mainly American-Italian dishes. Their main thrust is their grilled chicken with an additional gimmick for customers by allowing them to build up their platter by choosing from selected sauces, side dishes, and drinks.

Donatello's Kitchen is that nice food stop place when you're busy, on the go, or looking for a yummy Italian dish that will be served fast and just within your budget. Or it's the perfect place to eat lunch or dinner when you're somewhat tired of those cramped and filled up commercial eating places all over town and if you're craving for Italian foods.
How and where it all started
The business name, "Donatello" actually comes from the owner's blog pen name, "Donatello Giabanti" whose real name is Elton Ladd Batinga. When Mr. Batinga decided to permanently migrate to Cagayan de Oro after a foray into teaching and customer services, he decided to try out this form of food service and formed a partnership with his father. The concept was to create a food cart that didn't sell just street food; it had to be a food stand that was creative and sold special fusion menu at reasonable prices but was delicious enough to attract professionals and students alike.
When Mr. Batinga was still living in Manila, he got the idea of creating a business that served delicious chicken dishes from his favorite restaurant there. It served really delicious chicken breasts and other great chicken dishes. This is the idea that he wanted to emulate in Donatello's Kitchen, but of course, instead of just concentrating on chicken breasts and other chicken dishes, he mixed it up and now they serve mainly American-Italian dishes.
Mr. Batinga hopes that Kagay-anons will get to really like food cart platters ala Italian style, as usually sold like those from Italian food carts around Rome. The food cart platter idea is also to get customers to appreciate what it is like to create dishes and menus and what it feels like to amalgamate your own dish.
Meet the owner
We did notice that some intellectuals assumed that since the name of the place is "Donatello" it is based on the Italian Renaissance artist Donato di Niccolò di Betto Bardi, better known as Donatello. We also noticed some who thought the name comes from one of the famous Ninja Turtles.
What adds to the miscued confusion is a wall sign on the far side of the food cart that says, "Whether it's for love, art, money, friends or food, we all crave for something. It's as natural as breathing." – Donatello Giabanti. This can also be seen on the Donatello's Kitchen Facebook page. This isn't the famous artist or the turtle; rather, it's the owner's pen name when he used to write poetry.
Elton Ladd Batinga, at a young age of 29, epitomizes the growing cadre of young entreprenuers all over the country with the intent of starting out on business ideas that they alone have created.
He grew up in Cagayan de Oro then moved to Manila for college and work. He took up Veterinary Medicine for two years at UPLB and then shifted to Dev Com and finally finished with Digital Fine Arts.
He then took visual merchandising and basic menswear. Mr. Batinga first became an event handler for several pharmaceutical and multinational companies before moving on to being an assistant functional manager and project manager for a couple of top companies. He even became an Adjunct Lecturer at the Raffles Design Institute in Manila before finally moving to Cagayan de Oro. He became a part-time instructor for the Development Communication Department at Xavier University-Ateneo de Cagayan before deciding to venture into the food service business.
The Platters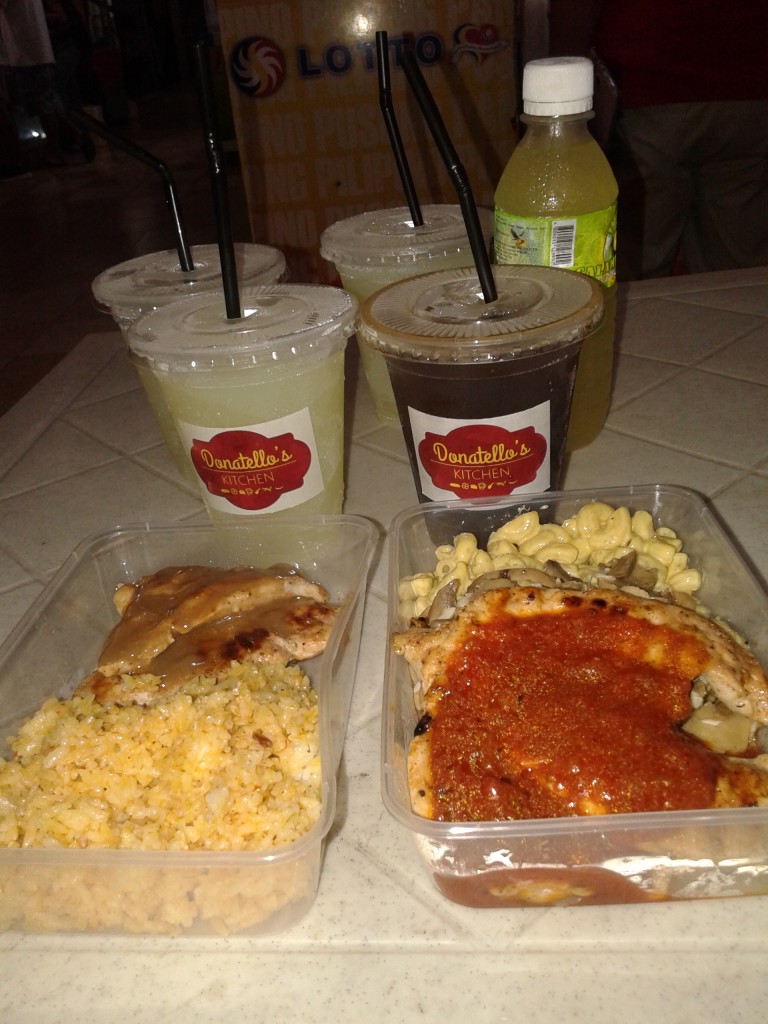 Donatello's Kitchen just recently opened on September 8, 2015. The Platters are the ones that give the food stand its uniqueness. Surprisingly, their platters are at affordable prices and there are three to choose from:
The Basic Platter – Php 79.99
Contains one Grilled Chicken, One Side Dish (the choices are Plain Rice, Java Rice, Mashed Potatoes, and Mac N' Cheese).
The Pasta Platter – Php 119.99
Contains one Grilled Chicken, One Side Dish (the choices are Alfredo Linguine, Marinara Linguine, Pesto Linguine, Young Corn, and Mushrooms).
The Premium Platter – Php 149.99
Contains one Grilled Chicken, Two Side Dishes (the choices are Plain Rice, Java Rice, Mashed Potatoes, Mac N' Cheese, Alfredo Linguine, Marinara Linguine, Pesto Linguine, Young Corn and Mushrooms), plus one drink.
For all the platters, you can choose the sauce for your chicken, the choices being Alfredo, Marinara, Pesto, Gravy, and Chili Paste. For the Premium Platter, aside from the long list of choices for side dishes that you get to choose two from, the choices for the drinks include Lemonade, Mint Iced Tea, and Calamansi Juice.
You can also order extras:
Extra Chicken – Php 49.99
Extra Basic Side – Php 39.99
Extra Pasta Side – Php 59.99
Drinks – Php 24.99
They accept free delivery only within the downtown area. As of press time, the food stand was still serving the Premium Platter at a promotional price of only P125, something worth checking out.
Looking to the future
For the near future, Mr. Batinga is hoping to expand to a more permanent space once the food stand gets to be really popular among Kagay-anons, and with the permanent space, perhaps more menus and dishes can be concocted up.
Conclusion and Contact Details
Donatello's Kitchen is a new, fun, and creative "first" idea in this city, being the only one of its kind, and from its recent opening to the present is proving a popular hit among Kagay-anons. For advance orders and deliveries, you can get in touch with them on 0916-7888977 or 0929-4458600. And when you're there, don't forget to say; "Buon Giorno to Donatello."