28 Oct

PNP Will Conduct Oplan Double Barrel to BPOs, Factories, Schools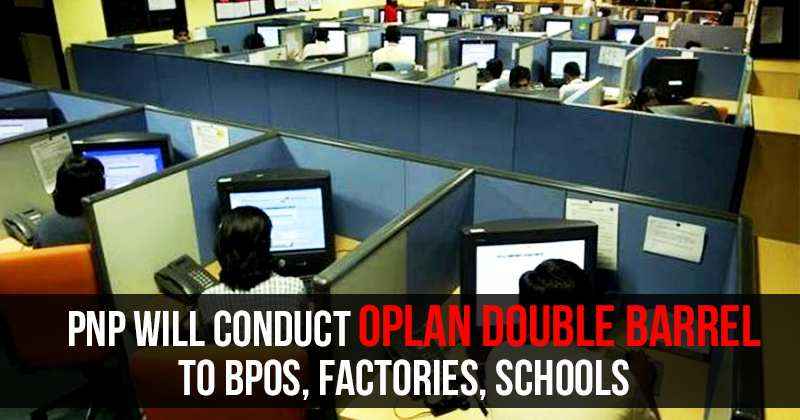 As the war against illegal drugs is still growing, the Philippine National Police (PNP) are now targeting business establishment particularly business-process outsourcing (BPO) facilities.
On October 26, Wednesday, the PNP chief Director General Ronald dela Rosa disclosed that the PNP marks other sectors that were not yet included in their anti-illegal drugs operation, Oplan Double Barrel.
Call-center offices and even terminals are targetted business establishments as reports say that several employees are using illegal drugs to stay awake while at work.
Factories, schools and even PNP organization itself are no exemption to the expanded Oplan Double Barrel, Dela Rosa said.
To sustain the momentum of the anti-illegal drugs campaign, Dela Rosa said that the Double Barrel Alpha will also be implemented.
He said, "When the campaign reached 600,000 plus, it went into a plateau, and we encourage them (police commanders) to invigorate the campaign and it increased to 700, 000 plus, but it again slowed down. So in order that we could cover all (areas of concern), we decided to include other sectors of society. That way, we will reach our target of 1.8 million (individuals)."
Meanwhile, the National Capital Region (NCR) also added the latest list of celebrities including popular actors who were allegedly involved in illegal drugs.
The names of the celebrities were already submitted to Dela Rosa, NCR Police Office Acting Director Chief Supt. Oscar Albayalde said, adding that it would be up to the chief's decision whether he would submit the list to President Duterte.
Albayalde stated, "It's up to the President. We just submit a list for his eyes also. It depends on him if he will make it public or not." He said that the list was referred on the revelations delivered by the arrested personalities.
He added, "This came from those arrested who volunteered the information, so this has to be really validated thoroughly. If ever they are positive and validated, then we can file cases or file for a search warrant."
Authorities earlier confronted several celebrities for illegal drugs use or possession which includes actor Marc Anthony Fernandez and former sexy stars Sabrina M. and Krista Miller.
News Source: Business Mirror