13 Mar

Drivers Allegedly Discriminate Health Workers In Cagayan de Oro Due To COVID-19 Threat

Mga higala! Healthcare workers in Cagayan de Oro City, especially those from the Northern Mindanao Medical Center (NMMC), are now allegedly being discriminated against and refused on public transportation by PUV drivers, due to their fear of the COVID-19!

This recently intensified because of the patient who tested positive for the coronavirus on NMMC.

Posts from health workers and concerned citizens about this issue are now circulating on social media.

See the screenshots below by Alan Roy Mendoza Sambaan: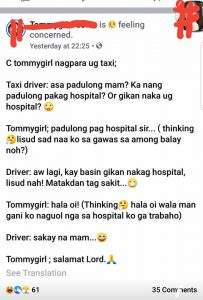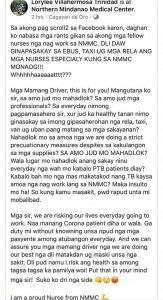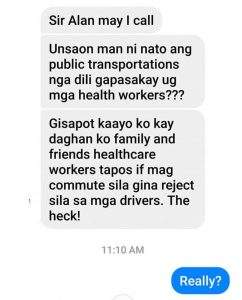 What's your opinion on this issue higala?
Hopefully, the authorities will do something about this and help our hardworking health workers.