02 Aug

Two Men Carrying Drugs Arrested at Camp Evangelista, Cagayan de Oro City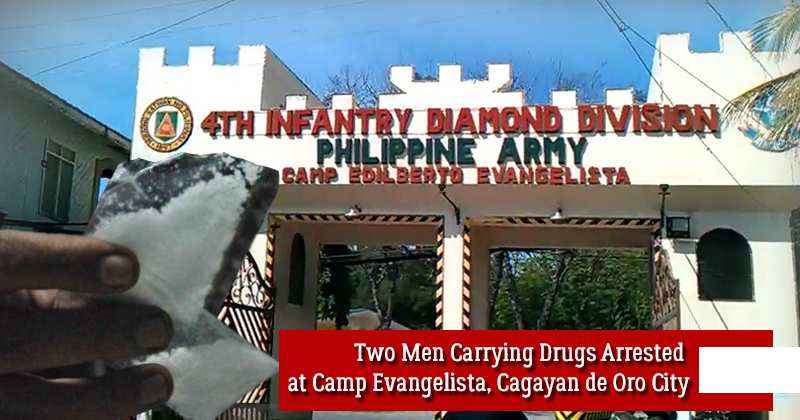 Yesterday, August 1 at Camp Evangelista, Cagayan de Oro City, the 4th Infantry Division Military Police personnel arrested two citizens for possessing two sachets of shabu.
These offenders found out to be Jeboy Dacadlo Valmoria, a 24-year-old taxi driver, and Ardel Gudilusao Yamson. They both resides at Barra, Opol town, Misamis Oriental. They entered the camp through a white Toyota Vios taxi cab with temporary plate number YP 6770 which was operated by SN Macaalin. Upon entering the camp, a military police personnel asked for Valmoria's driver's license and found out that it was already expired.
The personnel ordered them to proceed at the Military Police Company Information Desk for them to be investigated. As they were about to arrive at the information desk, they parked in front of a terminal shed.
Valmoria and Yamson then throw out the two sachets of suspected shabu and a brown pocket wallet. Fortunately, a 24-year-old lady saw this incident and immediately reported it to the information desk officer, Staff Sergeant Roland B Laure.
Staff Sergeant Laure then immediately informed and reported it to the PNP Criminal Investigation and Detection Group (CIDG) region 10, to arrest Valmoria and Yamson for possessing illegal drugs.
After the interrogation, they found out that these two bought the illegal drugs from Arnel Marquez (fictitious name). They are now under the custody of CIDG 10.
"I congratulate our soldiers on how they carried out their assigned task on ensuring security inside the camp. We remind everyone that the Philippine Army will not tolerate anyone who will commit crime and/or any violation of regulations. Part of our mandate is to support our PNP on their law enforcement operations to ensure everyone will live peacefully and will be freed from prohibited drugs and any form of violence", said Military General Benjamin R Madrigal Jr, 4ID commander.