04 Aug

Drug-Related Killings are Non-Acceptable Drug Control Measures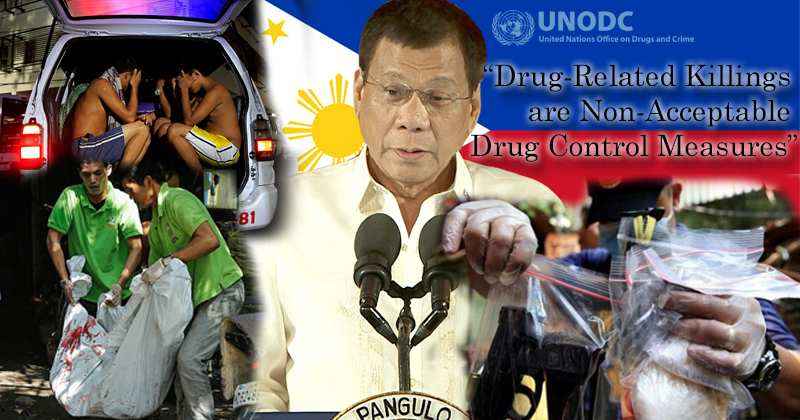 The rise of killings of suspected drug personalities in the Philippines made the United Nations Office on Drugs and Crime (UNODC) to express their concern about these cases.
UNODC Executive Director Yury Fedotov said he joins the UN Secretary-General Ban Ki-moon in "condemning the apparent endorsement of extrajudicial killings", given the statement last Wednesday, August 3.
"Extrajudicial killing is illegal and a breach of fundamental rights and freedoms," Fedotov said.
Fedotov added that the drug-related killings in the Philippines are not in line with the current provision of international drug conventions. A data from Philippine National Police (PNP) presented that after President Duterte took office last August 1, there have been 402 drug personalities who were killed. And 5,418 who have been arrested. This is during the legitimate anti-illegal drug operations; the war against drugs.
Fedotov said, "Such responses contravene the provisions of the international drug control conventions, do not serve the cause of justice, and will not help to ensure that 'all people can live in health, dignity, and peace, with security and prosperity,' as agreed by governments in the outcome document approved at the UN General Assembly special session on the world drug problem."
As what President Duterte said in his first State of the Nation Address (SONA), "We will not stop until the last drug lord, the last financier, and the last pusher has surrendered or put behind bars or below the ground, if they so wish."
Fedotov has stressed out that such methods and approaches should be balanced, people-centered, evidence and rights-based. These methods should be established in agreed international conventions and standards.
"UNODC stands ready to further engage with the Philippines and all countries to bring drug traffickers to justice with the appropriate legal safeguards in line with international standards and norms, and promote prevention, treatment, rehabilitation and reintegration approaches based on evidence, science, public health and human rights," he said.
The drug-related killings are non-acceptable drug control measures as stated by the UN office after the International Drug Policy Consortium (IDPC) – a network of non-governmental organizations (NGO), urged both the UNODC and the International Narcotics Control Board (INCB).