17 Oct

No. 2 Drug Supplier Transferred to Lumbia Jail, Drug Suspects Nabbed in Buy-Bust Operation in CDO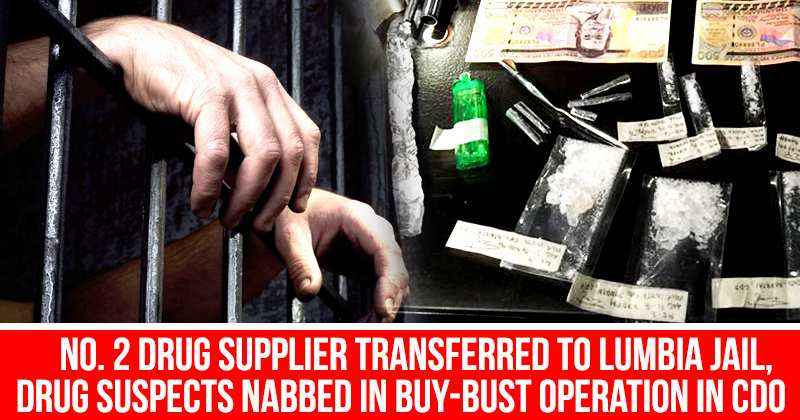 An alleged no.2 drug supplier in Cagayan de Oro is scheduled to be transferred to Lumbia City Jail. The police arrested the suspect during the drug buy-and-bust operation conducted at Ramonal Village, Barangay Camaman-an, Cagayan de Oro.
The police identified that suspect as Gabriel Edralin. The authorities also disclosed that they were just waiting for the commitment order from the court to have the high-value target drug suspect imprisoned in the city jail.
Macasandig Police Station commander C/Insp Basman Macarangal Jr. said that another drug suspect identified as Novo Abujuela will be with Edralin to be transferred to the city jail.
Large sachets containing methamphetamine hydrochloride or commonly known as "shabu" and drug paraphernalia were confiscated from Edralin. The suspect strongly denies that he was selling illegal drugs in the city.
Drug Pusher Nabbed at Barangay Cugman
The police are now filing charges against a suspected drug pusher for violating the Republic Act-9165 or the Comprehensive Dangerous Drugs Act of 2002.
The suspect identified as Frazel Oco, 33 years old, married, was arrested at Barangay Cugman, Cagayan de Oro on October 16, Sunday.
SPO1 Sebil Levino of Cugman Police Station said that they seized Oco as they conducted buy-and-bust operation in the said place.
Six sachets of suspected shabu and P200 marked money were confiscated by the authorities.
With this, Levino urged the individuals who are still into the illegal drug trade, to stop and yield to the police as they are always prepared and eager to arrest drug suspects.
Meanwhile, Oco strongly denies that he was selling illegal drugs. As he was interviewed by the reporters of Bombo Radyo, Oco told them that he was just a mere painter and not a drug pusher. He added that he was shocked that the police suddenly arrested him.
However, Oco admitted that he was using illegal drugs in the past but recently resigned from this habit.
PDEA Seized 3 Drug Individuals at Barangay 38
A drug target personality and two other accomplices will be facing charges for selling illegal drugs.
The operatives of Philippine Drug Enforcement Agency (PDEA) 10 arrested the drug suspects who were identified as Christopher Yap, Roel Ramirez and Jumaw-as when they were transacting inside a motel at Barangay 38, Cagayan de Oro last night.
Jumaw-as was in PDEA's drugs watch list as he was known to be smuggling illegal drugs in the city.
P150 thousand worth of suspected shabu was confiscated from Jumaw-as and a sachet containing shabu worth P500 was recovered from Yap.
The three suspect were already detained at the mini-cell of PDEA-10.
News Source: Bombo Radyo