27 Jun

Duterte Plans to Provide 12 Hotline Numbers to Directly Report Corrupt Officials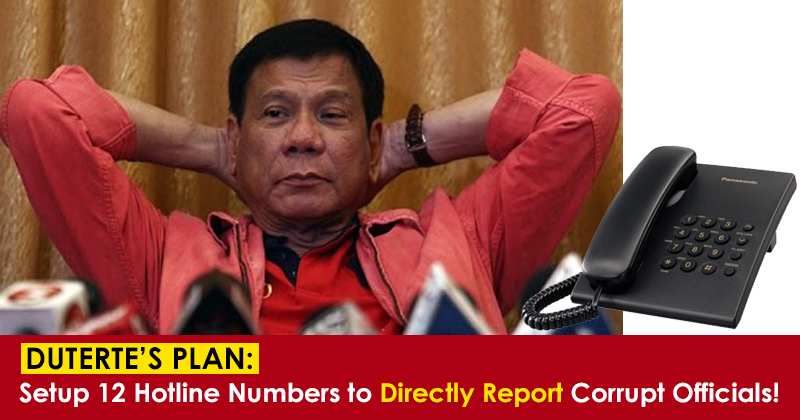 On Saturday, June 25, president-elect Rodrigo Duterte revealed his plan of setting up 12 hotline numbers where people can directly call to report corrupt acts of government employees and officials.
He said this statement during the thanksgiving celebration on the Sugbo Grounds at the South Road Properties in Cebu City where he had his speaking engagement that lasted for almost an hour in front of more or less 10,000 people.
He said that these numbers will be constantly monitored and can be accessed for 24 hours for complaints and reports.
The Bureau of Internal Revenue (BIR) and the Bureau of Customs (BOC) have been warned for their noted corrupt practices prior to the Duterte administration.
"You better stop it or I will humiliate you," he said.
He also stated that he could be mean if the people won't listen to his appeal.
He arrived at the SRP Sugbo Grounds around 10 pm in the evening, delivered his speech at 11 pm and ended at 11:45 pm. He thanked the Cebuanos at the thanksgiving celebration for giving him enough votes to trample Mar Roxas in a region which is considered as a Roxas territory based on the previous election results before the 2016 elections.
Duterte voiced out his desire to stop the long lines at the BIR, the Land Transportation Office (LTO), and the Department of Foreign Affairs (DFA), police clearances or processing death benefits and pensions of widows of policemen and soldiers. He considered these as some of the small problems that the previous administration have failed to address.
Duterte said that the country's progress depends on investments in order to produce jobs for Filipinos.
But before investments could pour in, peace and order must be achieved by regulating the root of criminality which is drugs.