31 Oct

President Duterte Vowed to Boost Agriculture in Mindanao, Provides Farming Equipment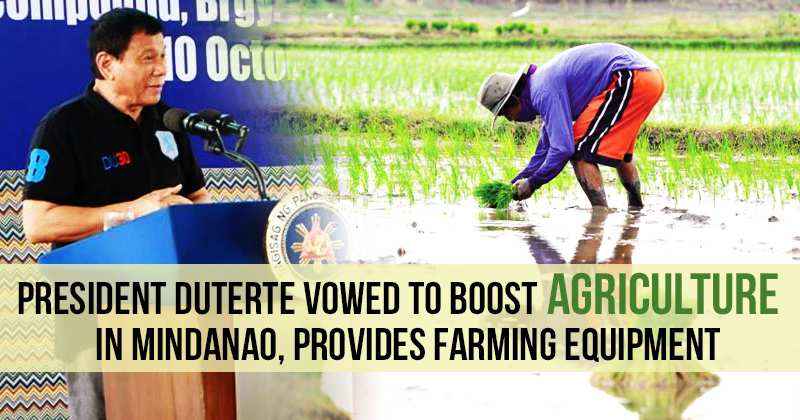 On October 29, Saturday, President Rodrigo Duterte said he supports farmers and assured to purchase more farming equipment adding that his administration will not ask money from the farmers for the acquisition of the tractors.
As reported by the Agriculture Secretary Manny Piñol, the farmers who received tractors from the former administration were asked a certain funding to pay for a percentage of the whole cost of the purchased equipment, where President Duterte reacted.
The president then assured that the government will provide the equipment as he said in his speech during the launching of the comprehensive reform and development agenda for Autonomous Region of Muslim Mindanao (ARMM) and other conflict-affected areas in Regions 9, 10 and 12.
He said, "Kind of stupid at hindi ko talaga maintindihan. Why would you come up with a program which would be asking a counterpart? Binibigyan mo na nga kasi mahirap. So the next acquisition, yung mga tractor eh it's a very small one… hindi naman yung tractor nakikita mo doon sa construction. But it's a farm tractor and I will buy more and I will give everybody their fair share."
President Duterte advised the farmers to take care of the equipment as it was from the public's money. He also said that his administration will boost Mindanao to its fullest extent and provide food and income for Filipinos.
As he spoke, "Well, anyway take care of those properties because it is not ours. It is the money of the people. So kung ano yung maibigay, lalo 'yung mga makinarya, the secret there is maintenance. Sundin mo lang kung ano sinasabi doon sa libro para tumagal yung bagay sa inyo."
He added, "But I will provide sa karamihan. At galing man akong China, I can ask for more. Baka ibigay sa atin ng libre and so I can really develop Mindanao to its fullest extent."
However, the president did not disclose where he will secure funds for the farming equipment.
He also said that he is considering to restore the programs established by the late President Ferdinand Marcos concerning the agriculture and fishery sector using the 2017 budget adding that the allocation emphasizes education, agriculture, and health.
The Senate assured the approval of the P4-billion additional funding for the program, the administration had vowed to provide free irrigation for the farmers starting next year.
News Source: PhilStar