12 Aug

President Duterte Apologized for his Harsh Reaction To Sereno's Letter

On August 11, Thursday, during a press conference in Davao City President Duterte apologized for his harsh reaction to the Chief Justice Maria Lourdes Sereno's letter with regards to a list of judges who are supposedly linked to the illegal drug trade. As he spoke, "I apologize to the Chief Justice for the harsh words. It was never intended."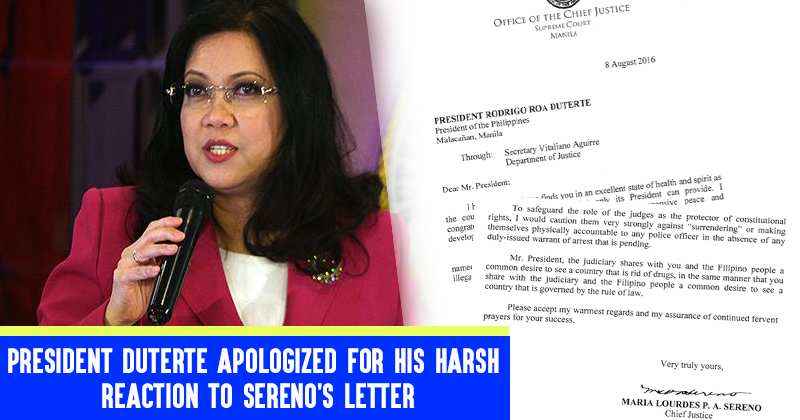 Naming publicly the government officials, police officers and judges who are suspected to be involved with drugs is his way of stopping the extent of drugs in the country. "But ako kasi because of the magnitude of the problem, it was my way of solving the problem within the ambit of my powers as president," President Duterte said.
And he insisted that securing a warrant of arrest would take forever.
Last August 8, Monday, Sereno wrote a letter showing her concern for the "premature announcement" made by President Duterte as he named 158 local government officials, judges, police, and congressmen.
With this, President Duterte reacted angrily saying that Sereno is not in touch with the events happening around and do not appreciate the anti-illegal drug operations. He also threatened to declare martial law and the possibility of the country turned to narco-state if he stops fighting against drugs.
Sereno chose not to reply to Duterte.