28 Jun

Duterte Pushes Birth Control Plans – Ready to Face Catholic Church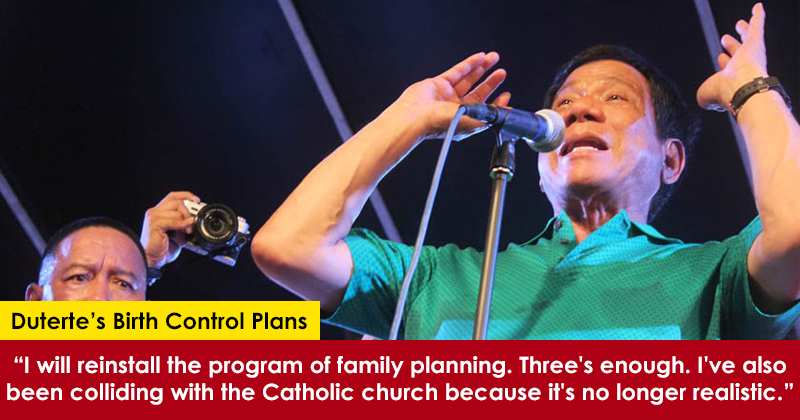 On Monday, June 27, president-elect Rodrigo Duterte said that he will continue his aggressive promotion of artificial birth control in the country despite the impending clash with the Catholic Church, which is cemented in their opposition to the use of contraceptives in the country.
Duterte who is known to have said that he wanted at most three children per family only, based on his idea that having more children within a family will drive more risks for them plunging deeper into poverty.
Duterte also cited his family planning program in the city of Davao, where he will grant cash rewards to the people who will volunteer to have a free vasectomy or ligation. The doctors that will perform such operations will be rewarded too.
"I will reinstall the program of family planning. Three's enough," said Duterte.
He also added, "I've also been colliding with the Catholic church because it's no longer realistic."
Duterte did not yet mention if he will implement the reward system nationwide.
The country-wide contraceptive promotion has not been done by any president before Duterte, but for Ramos who promoted it when he was elected as the Philippine president in 1992. Ramos is the first protestant President of the Philippines.
Also, Outgoing Philippine President Benigno Aquino III had a dispute with the Catholic Church after signing the 2012 reproductive health law.
The leaders of the Catholic Church considered the act as an attack on their beliefs.
Duterte has been a constant adversary of the Catholic Church. He once cursed the Pope when it visited the country January last year. He also called the local Catholic Church "the most hypocritical institution," accusing some bishops who are asking for special favors from politicians.