03 Oct

President Duterte Warns to End EDCA, Intends to Strengthen Ties With Russia and China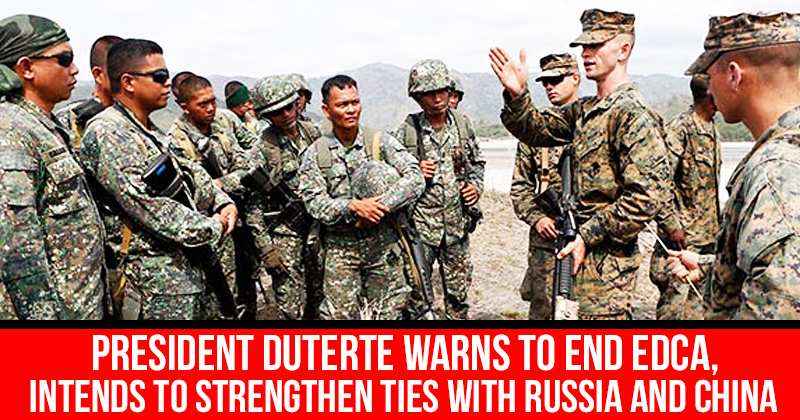 On October 2, Sunday, President Duterte intends to end the implementation of the Philippines-US Enhanced Defense Cooperation Agreement (EDCA) as he disclosed that he would soon announce a new policy in connection with the Philippines' allegiance with the United States.
The EDCA has been reviewed by the government, prompting the US government that while it might be an official document, it was just an executive agreement as former president Benigno Aquino III did not sign two years ago but only by his official representatives in the negotiation for EDCA, President Duterte said.
The President said that the EDCA was only signed by the former defense secretary Voltaire Gazmin and a US representative. It was signed in 2014 but was not implemented until the Supreme Court confirmed its constitutionality in January.
President Duterte said addressing to the US government, "Better think twice now because I would be asking you to leave the Philippines altogether," that would happen, if the US were "unable to produce the signature bearing the permit to conduct war games."
While President Duterte was in Laos for the ASEAN summit last month, he disclosed that he talked for the first time to Russian Prime Minister Dmitry Medvedev. He made the statement as he restated that he would toughen the country's relations with China and Russia.
The President shared his issues with Medvedev saying that the US was humiliating him and the prime minister told him that he is willing to help.
Apart from Russia, China also told President Duterte to cooperate with them as the US would not be able to provide the Philippines some assistance.
"Tomorrow I will be friends with (Russian President Vladimir) Putin and (Chinese President) Xi Jinping," the President said.
President Duterte said during his speech in Bacolod City where he attended the 37th Maskara festival, "If you Americans are angry with me, then I am also angry with you," as the US keeps on criticizing him with his campaign against illegal drugs.
The US has not been supporting the Philippines in its war on illegal drugs, the President said that his administration does not have enough money and has been operating on a national budget produced by the previous administration who did not expect the intensity of drug issue in the country.
Muslim scholars refused to negotiate with the president as the US are still in Mindanao, this urged President Duterte to have the Americans leave the south.
The scholars said that "as long as the Americans are in Mindanao" they would not negotiate with him regarding peace.
The President said, "This prompted me to say there may be a time I may ask the US to leave Mindanao to be able to connect to them and talk and maybe they will decide to negotiate."
"I'm just being your President," he ended.
News Source: Inquirer