15 Jul

Duterte's Excellent Trust Rating: 8 in 10 Filipinos Have "Much Trust" in Him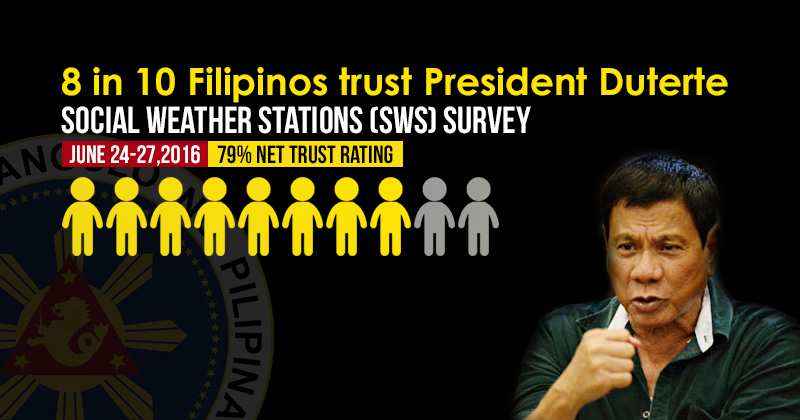 Based on the latest Social Weather Stations (SWS) survey conducted on June 24-27, 2016, President Rodrigo Duterte got an impressive +79 net trust score (Much Trust – Little Trust). He recorded an 84% much trust rating and 5% little trust score to get the +79 trust rating that we haven't seen for ages!
It is 3 times higher than the trust rating he had before the May 9 elections. He got +26 net trust score that time (54% much trust, 28% little trust).
Presidential Communications Secretary Martin Andanar said in a text message, "It's a positive sign and very encouraging to know that the people trust the judgment, decision, and actions of the President."
"Everyone, from the President down to his official family, will therefore work double time and channel their energies to transform the lives of our people. Our people deserve no less," he said.
he also added, "It is mandated for change, and government cannot be stopped from its promise of reforming society by getting rid of drugs, criminality, and corruption."
Everywhere and in every class, Duterte got an excellent trust score.
By areas: Mindanao (+90), followed by Metro Manila (+78), the rest of Luzon (+75) and Visayas (+74).
By socioeconomic group: classes ABC (+82), D and E (+79), urban (+83) rural (+75).
Age groups: ages 18-24 (+88), ages 25-34 (+84), 35-44 and 45-54 (+78) and 55 and above (+70).
Gender: men (+82) and women (+75).
Educational attainment: college graduates (+87), college undergraduates (+81), elementary (+76) high school (+74) levels.