25 Apr

Duterte Favored by Netizens During the Face-Off Round in the 3rd Leg of the Presidential Debates 2016

On April 24, Saturday, the 3rd leg of the Presidential Debates 2016 co-organized by the Commission on Elections, ABS-CBN, Manila Bulletin, Kapisanan ng mga Brodkaster ng Pilipinas and the Phinma University of Pangasinan was held in Pangasinan. And during the second part of the debate which was the face-off round, Davao City Mayor Rodrigo Duterte determined as the winner of the said portion based on votes by Rappler readers.

Shown below is a graph with the presidential bets' vote percentages.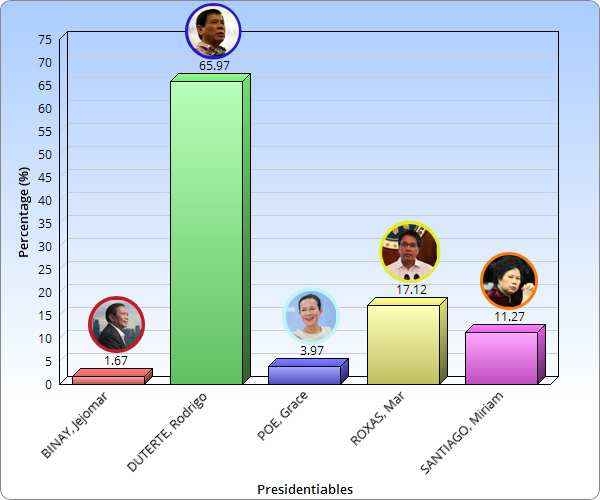 Garnering 65.97% of the total votes was PDP-Laban's Duterte. Then followed by the Liberal Party's standard-bearer Mar Roxas with 17.12% and Senator Miriam Santiago with 11.27%. On the fourth place was Senator Grace Poe with 3.97% and at the bottom was Vice President Jejomar Binay with 1.67%.
The said face off round had the candidates to face each other questioning about various issues. Along with it was a "fast talk" portion where candidates were asked if they agree or disagree on questions provided by the hosts within 2 minutes.
Aside of Duterte winning the second part, he emerged as the winner of the first part too where sectoral representatives were given the chance to ask the candidates about issues regarding the West Philippine Sea, Overseas Filipino Workers and metro traffic.