02 Aug

Duterte Believes that Filipinos Will Survive Without the Mining Industry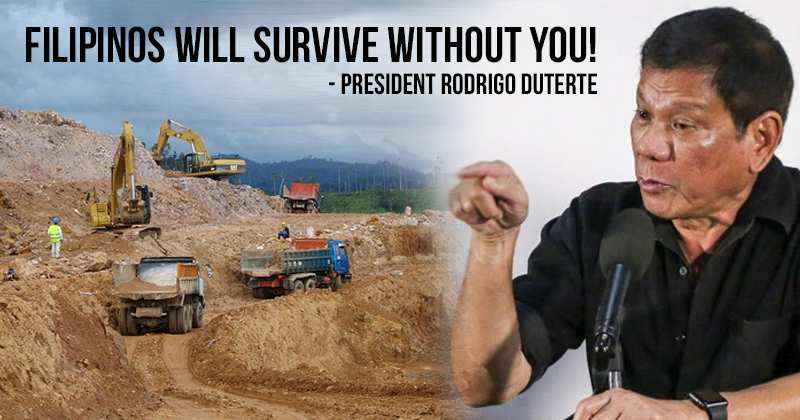 On Monday, August 1, President Rodrigo Duterte expressed his sentiments against the hard-headed mining corporations that are operating in the country who are not complying with the government's environmental protection standards.
He issued an ultimatum to the Philippine mining industry that they need to comply or they will be foreclosed.
He said in a statement, "I can forego with the P40 billion I collect from you guys and the Filipinos will survive without you. Either you follow strictly government standards or you close up," Duterte said.
Among many mining companies, Duterte named the Canadian company, Marcopper Mining Corporation on Marinduque Island as one of the companies that need an overhaul.
He said, "Kayong mga minahan diyan, pati 'yang Marcopper, hanggang ngayon hindi pa ninyo nalinis 'yung dumi ninyo."
As far as we can recall, the Marcopper Mining Corporation had a toxic waste spill in a river system way back on 1996, contaminating drinking water, poisoning farm animals, and rendering entire rivers unusable.
If these companies won't observe the environmental protection regulations, no less than the military and police will raid their mining sites as mandated by Duterte to force its foreclosure.
Duterte, who remained solid in his stance against mining said, "Lahat ng butas dito ng mga walang lisensiya, I will order the military and the police to close them. Kapag ayaw ninyong sumunod, ipapasok ko kayo doon sa butas, takpan ko kayo kasali."
"Sabihin ninyo, mining is a critical component of the Philippine economy – of course, it is, it's income. But you are also making critical damage," Duterte added, believing that irresponsible mining does more harm than good to the people.