07 Jun

Duterte Urges 3 Generals in Camp Crame Who are Involved in Illegal Drug Trade to Resign Immediately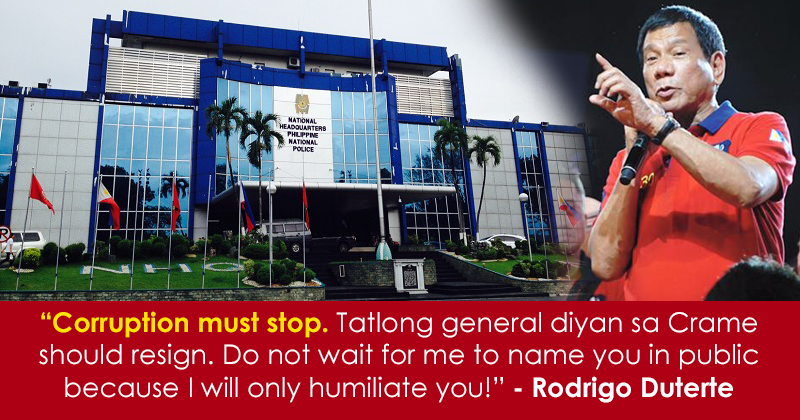 On Saturday, June 4, President-elect Rodrigo Duterte said in his speech during the DU31 victory party "One Love, One Nation" that there are 3 Generals in Camp Crame who are involved in illegal drug trade. What he wants for them is to resign from their post before he sits down as the president of the Philippines.
"Corruption must stop. Tatlong general diyan sa Crame (should) resign. Do not wait for me to name you in public because I will only humiliate you," said Duterte.
"If they think they're the ones Duterte is referring to, I think it's time for them to retire," said Deputy Director General Danilo Constantino.
"I was even surprised to hear it from the president, but perhaps he has information. Siguro antayin na lang natin sa susunod na araw. They are generals. They have been in the service for a long time already. They can always retire early," he added.
Previously, Duterte had already addressed the police officers who are involved in drug trade, drug use, and other cases to leave the police force immediately before he will start his revamp in the entire PNP.
His newly appointed PNP Chief Supt., Ronald "Bato" dela Rosa is vowed to follow the orders of the president since it is necessary considering the present situation that our country is facing right now.