20 Aug

Duterte Honored Wounded Soldiers in Mindanao for Their Courage

Last August 14, Sunday, anti-drug operation was implemented against Moro rebels in North Cotabato and there were 8 injured soldiers. On August 18, Thursday, President Rodrigo Duterte honored the eight soldiers.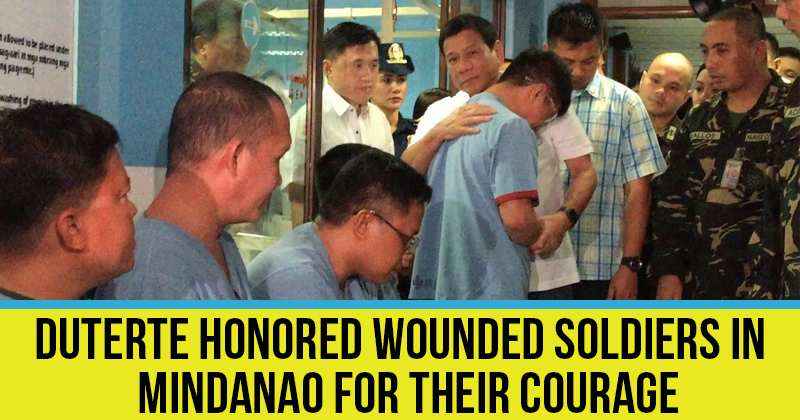 In his second visit to Camp Siongco, Maguindanao, the campaign against illegal drugs would still continue, President Duterte guaranteed to women and men officers of 6th Infantry Division.
Wounded soldiers of 6th Infantry Division Reconnaissance Unit were visited by President Duterte at Camp Siongco Hospital.
The president commended the soldiers for their courage and assured that he would grant the needed assistance particularly financial support to the families of killed and wounded soldiers.
President Duterte emphasizing that he is from Mindanao and has a Maranao Blood, restated that he is yearning for a permanent peace in the region. As he spoke, "We must stop killing each other."
He told the soldiers of the Army division after visiting the wounded infantrymen that as long as he is the President, "you have nothing to worry. You will have life-saving equipment…for all military hospitals to treat wounded soldiers. The presidential jet will be yours, even president Fokker planes to be used for military emergency operations."
The president added that aside from his hate against illegal drugs, he also hates corruption. As he spoke, "I really hate corruption."