15 Jun

Duterte Wants to be Inaugurated Separately From Robredo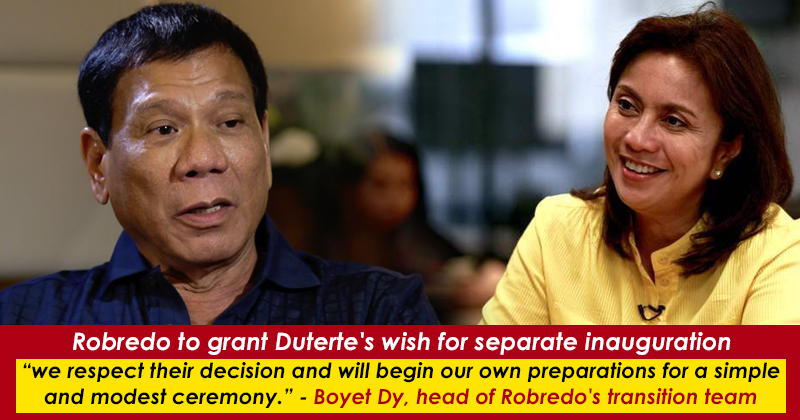 On Wednesday, June 15, president-elect Rodrigo Duterte's camp stated that they want to have a separate inauguration from Vice President-elect Leni Robredo.
Boyet Dy, head of Robredo's transition team, said in a statement, "While we have been preparing for a joint inauguration, we respect their decision and will begin our own preparations for a simple and modest ceremony."
Robredo will have her inauguration in Metro Manila, and will be sworn in by a barangay captain from her hometown, Camarines Sur. Dy said, "She wishes to be sworn in by Captain Ronaldo Coner of Barangay Punta Tarawal, Calabanga, the smallest, farthest, and poorest barangay in Camarines Sur."
As previously stated, Duterte will have his oath-taking ceremony on June 30 at the Office of the President in Malacañang Palace, because according to him: "kasi walang gastos."
Also, in a previous statement, he said that he will only invite 150 people, and deliver just a 5-minute speech.