10 Oct

President Duterte Expected to Sign Nationwide Smoking Ban within October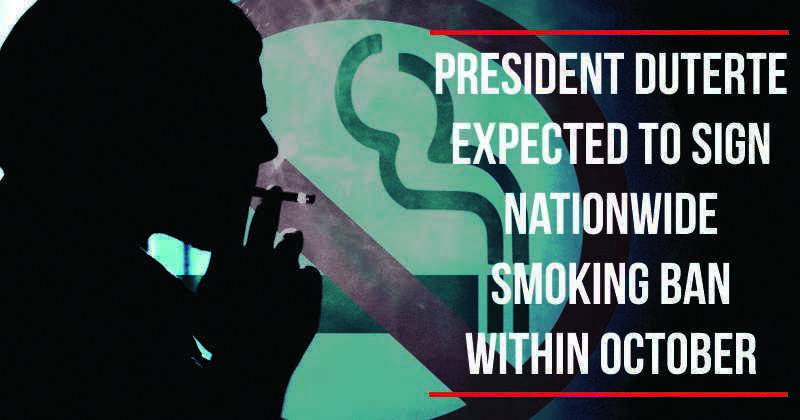 President Rodrigo Duterte is expected to sign an order declaring a nationwide smoking ban within this month.
The draft executive order presenting for the smoking-free Philippines is pending as it awaits the president's signature, Health Secretary Paulyn Ubial disclosed.
Ubial stated before the reporters, "We already submitted the draft executive order and the President will probably sign it within October."
The executive order corresponds to the ordinance providing for an absolute smoking ban in Davao City, said Ubial.
All public places across the country will be 100 percent smoke-free once the executive order is signed and becomes effective.
Ubial stated, "There will be no smoking in public places anymore, whether indoor or outdoor. Parks, bus stations, and even in vehicles. All these are considered public places."
President Duterte recently iterated his aim to impose a total smoking ban saying that it only brings diseases to both smoker and non-smokers.
The Department of Health (DOH) will also propose an amendment to the existing Tobacco Regulation Act of 2003.
Ubial said, "We are still trying to explore amending the law, RA 9211, because of the many contentious issues and gray areas."
She also mentioned the smoking areas as among the gray areas and the point-of-sale advertisements in the existing law.
Ubial stated, "What we want is to remove the gray areas in the current law and totally prohibit point-of-sale advertisements as well as designation of indoor smoking areas."
Tobacco companies may attempt to stop the imposition of the total smoking ban in the country but Ubial just ignored it and said, "It is up to you to oppose. It is already the President you will be fighting against."
News Source: PhilStar