03 Jun

Duterte on Whistling a Female Reporter: That is freedom of expression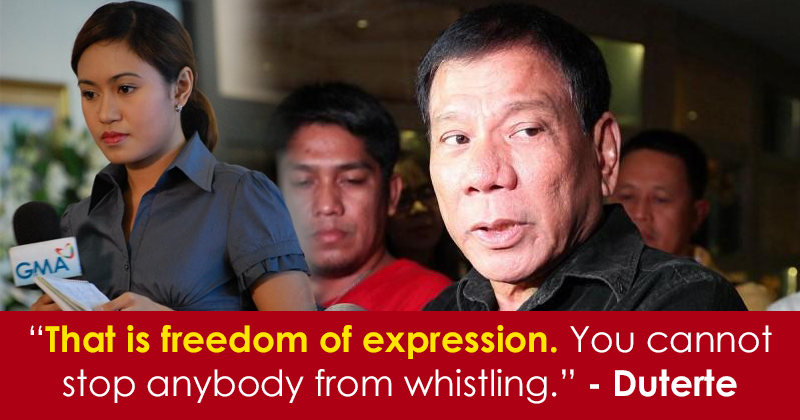 In a media briefing in Davao City on Thursday night, June 3, president-elect Rodrigo Duterte said, "That is freedom of expression. You cannot stop anybody from whistling."
Duterte's treatment on women has been often criticized before as inappropriate. This time, it is about whistling. On Tuesday, May 31, during a press conference, Duterte whistled on GMA7 reporter Mariz Umali, after she asked a question on him.
Umali's husband, Raffy Tima, said that such act is demeaning. The act of whistling is a form of sexual harassment under Davao City's own Women Development Code. Duterte signed it himself in 1994.
Under the ordinance, it says, "cursing, whistling or calling a woman in public with words having dirty connotations or implications which tend to ridicule, humiliate or embarrass the woman."
But Duterte defended himself about the accusation, he said, "If you are a beautiful woman, and you say whistling is directed at a woman, and when I say, what am I doing? I am suggesting sexual intercourse?"
He also added that any act of preventing someone from whistling is "intruding into constitutional grounds."
According to him, he whistled because he is "exasperated by the question."
During his campaign, Duterte saw flirting with women showing his affection to women. In fact, he is very open with it and never denied it.
Yet, he said that with all of those acts, he never took advantage with them.