07 Jun

Duterte Plans to Stop Large-Scale Mining in Mindanao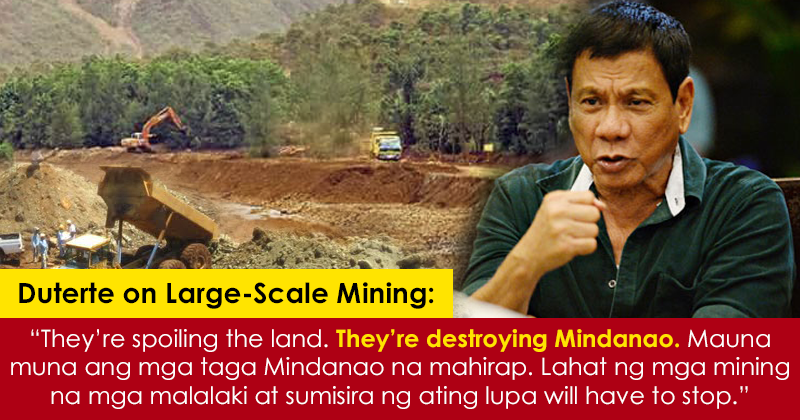 Planning to have your own large-scale mining business in Mindanao? Think again. The president-elect Rodrigo Duterte is determined to prioritize and assist small-scale miners while planning to end the large-scale mining in Mindanao.
"You have to stop, mangita silag laing negosyo. They have to stop. They have to stop."said Duterte.
He also added, "They're spoiling the land. They're destroying Mindanao. Mauna muna ang mga taga Mindanao na mahirap. Lahat ng mga mining na mga malalaki at sumisira ng ating lupa will have to stop."
He also pointed out that the Moro people left out on the marginal side of the mining business in Mindanao due to historical injustices.
Speaking on the small-scale miners, he said, "I would like it to be a cooperative of mga Pilipinong gakutkot diha." He also added, "we will just support them and give it to them and give them instructions on how not to end up spoiling the land natin dito."
San Roque Metals, Inc. (SRMI), a nickel-mining company in Tubay, Agusan del Norte, who is owned by Eric Gutierrez, a friend of Mar Roxas has never been punished despite the destructive and irresponsible mining practices that his company used.
Alyansa Tigil Mina said in a statement regarding Duterte's plan, "We expect him to suspend operations and/or revoke permits and agreements of destructive and irresponsible mining projects and those companies in utter disregard of the conditions of their contracts."
The new DENR secretary is yet to be named. Unmanned departments are usually headed by the President prior to designation of any person he deemed to set in the position. Just like Aquino who served as DILG secretary before appointing Jessie Robredo in the position.
For now, the DENR has no new secretary to succeed the former, thus Duterte will man it for the mean time. He said, "Ang akong ibilin kanang gigunitan na nako DENR."