11 Aug

Duterte Wants Sereno to Stop Meddling or He Will Declare Martial Law

On August 9, Tuesday, President Duterte visits Camp Evangelista in Cagayan de Oro City and speaks in front of the troops there.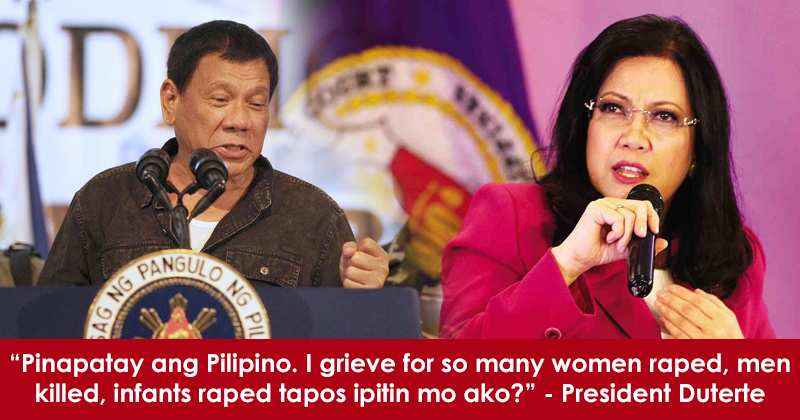 One of the highlights of his speech is his agitated rebuttal to Chief Justice Maria Lourdes Sereno's comments regarding his public exposition on the judges that are linked with illegal drug trades.
He said, "If this continues, pigilan mo ako eh 'di sige 'pag nagwala na, or would you rather I declare martial law? Pinapatay ang Pilipino. I grieve for so many women raped, men killed, infants raped tapos ipitin mo ako."
According to Sereno, the naming of the judges in public by the President is a "premature public announcement." She even advised the judges not to surrender if there are no warrant of arrest presented to them.
Yet, Duterte has been clever as ever. Facing kagay-anons yesterday, he said in response to Sereno's comments, saying "Madam Chief Justice, you must be joking. Dalawa tayo abugado, kayong lahat sa Supreme Court. Do you know how long it would take the government to secure a warrant of arrest? It would take forever."
Issuing warrant of arrest to thousands of persons allegedly involved in illegal drug trade will give them the freedom to continue their sinister business.
The President added, saying, "In the meantime, 'yung bangag ano'ng gawin mo? (What will you do with those high on drugs?) Let them resume their criminal activities?" he said, adding that judges "are not the ones guarding the streets."
Duterte also emphasized that te judges are not all drug users but protectors of the users and pushers. He said, "Kung judge, he was not handling drug cases? Ma'am nagkamali ka, akala ko ba, to be there you must be seasoned? Takbo niyan, 'Pare, tawag mo 'yung kaibigan mong judge."
He added, saying, "Do not force the issue. I respect your comments, but it is a rigmarole to me."
Duterte keeps on repeating his stand here that he don't want to be instructed on his decisions that he found essential in the present situation of the country. He said, "Do not create a crisis because I will order everybody in the executive department not to honor you. Ito prangkahan, kasi nakialam kayo. Just because you are the Supreme Court, you order me? I will not follow you."