25 Mar

President Duterte's Special Powers Bill Penalizes Fake News and Public Scams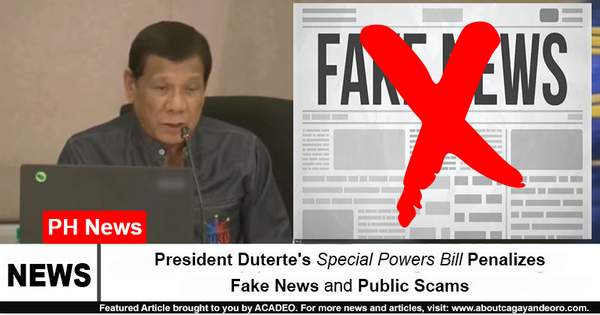 Last Tuesday, March 24, 2020, the Senate of the Philippines approved a bill that will give President Rodrigo Duterte 30 special powers, in order to deal with the COVID-19 crisis in the Philippines. The said bill is now up for his signature.
Aside from giving the president the authority to contain the novel coronavirus, offenders of acts specified under Section 6 will be penalized by up to 2 months in prison or be fined of not less than P10,000, to not more than P1 million, or both, depending on the judgment of the court.
The said Section 6 punishes those that create, perpetuate, or spread false information concerning the COVID-19 threat on various platforms, including social media, because it gives rise to confusion and panic among the public.
In addition to the last-minute amendment to the bill, individuals who participate in cyber incidents that take advantage of the current situation in the country through fraudulent emails, phishing, scams, and the likes will be punished.