13 Aug

President Duterte to Moro rebels: "I would like to appeal to all that we should stop this war and bleeding"

President Rodrigo Duterte said that his task as a president of the country is to give peace to the countrymen. He then restated his appeal to stop the four decades-long war to the Moro rebels in front of the government soldier at Camp General Teodolfo Bautista, Bgy. Busbus, Jolo, Sulu. As he spoke, "I would like to appeal to all that we should stop this war and bleeding. I will bring the Arab investors here so that you will have no so much dynamics. Just guarantee me that you want to end this fight and let's talk."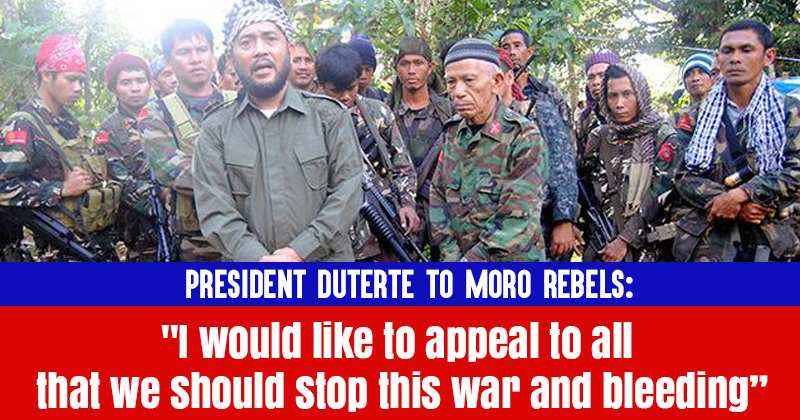 The president specifically addressed the appeal to Nur Misuari, head of the Sulu-based Moro National Liberation Front (MNLF). He stated, "So my job when I became president was, really to seek peace, not war and I will start immediately the peace and also the people here, and also to Nur, we knew each other long time ago. I've been telling Nur, can we just talk and then, let's find the way how."
President Duterte vowed to develop Sulu if Misuari agrees and bring peace to Mindanao. As he spoke, "If you agree for peace, I will lengthen the runway and make it operational day and night. I'm telling you that. I reiterated my commitment to the Moro people and the Tausug that I want to end this war so that our soldiers can go home because they have also their own family to take care."
Aside from the MNLF, President Duterte also desires to push the peace talks with the Moro Islamic Liberation Front (MILF).
Said the president, "Secretary Jesus Dureza and the guys in the government panel will talk to Nur and kung maari isaabay ko na lang dahil magastos yang isa't isa. Half of the discussion with Nur, and half of the discussion with the MILF."
Government troops would still fight Abu Sayyaf Group in Mindanao who still practice kidnap for ransom said the President. The president told the soldiers, "Those who want to destroy us, then you have to destroy, not only fight, we destroy because if not, nothing will happen."
President Duterte also added that they would still pursue peace talks with the communist rebels with or without Jose Ma. Sison, founding leader of CPP-National People's Army-National Democratic Front (CPP-NPA-NDF). He said,"We are still pursuing the talks with or without Sison. Here we are ready but I don't know it if would come within this month."
In the first State Of the Nation Address (SONA) of Duterte as a President, he declared unilateral ceasefire against the communist rebels. This declaration shows that the government wants to talk peace with them. And after five days, he decided to lift the ceasefire as NPA failed to meet the deadline to reciprocate. The rebels even killed, ambushed and injured soldiers while the president waits for their response.
"I decided to lift and then they came out with a statement in the evening that they are supposed to cease fire. I said don't fool me. But we are still pursuing the talks," the President said.
As for the government troops, President Duterte also promised to modernize the Armed Forces of the Philippines (AFP). He told them, "You have to be very vigilant. Everything you need to win, I will give it to you. Under my watch, there will be no problem. You will have state of the art hospitals. I will give for your use as ambulance my (presidential) jet. I will just take commercial flights. Let's just work for this republic."