21 Jul

Duterte's Trust Rate Up to 91% in July!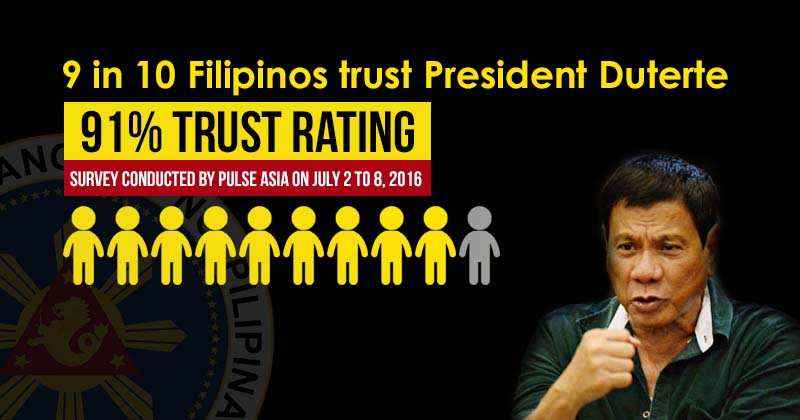 Are you already overwhelmed by the 79% trust rate that President Rodrigo Duterte got in June? Well, his rating continues to rise in July where he lands at an astonishing 91% trust rating!
On Wednesday, July 20, a survey conducted by the Pulse Asia showed that almost all Filipinos trust the current President Rodrigo Duterte, gaining a 91% trust rate in his first weeks in the highest position in the country.
Pulse Asia president Ronald Holmes said, "President Rodrigo R. Duterte begins his stint as the country's 16th president with an overwhelming majority of his constituents expressing trust in him (91%) and practically no one distrusting him (0.2%). The rest of Filipinos (8%) cannot say if they trust or distrust President Duterte."
The survey has been conducted on 1,200 Filipinos nationwide from July 2 to 8, 2016.
Interestingly, almost the same results showed up on the July 1 to 11, 2010's survey for the former president Benigno Aquino III who got 85%.
However close the comparison is, many believed that the 85% of Aquino is a result of the hype of the Filipino people that time, compared to the clear judgment that we had for Duterte, bringing him up to 91%.
Palace Communications Secretary Martin Andanar said Duterte's 91%-trust rating "is a humbling reminder that the genuine and meaningful change that our people aspire for is now being felt."
"This expression of confidence, therefore, shall serve as an inspiration to the Duterte administration to continuously make a real difference and make our people's lives better, safer, and healthier," he also added.
Location-wise, Duterte has his highest trust rating in Mindanao with 97%. For the socioeconomic classes, he got the highest percentage of trust with 92% in both class D and the poorest group, class E.