02 Nov

President Duterte Visits Wounded Soldiers in Sulu to Honor Them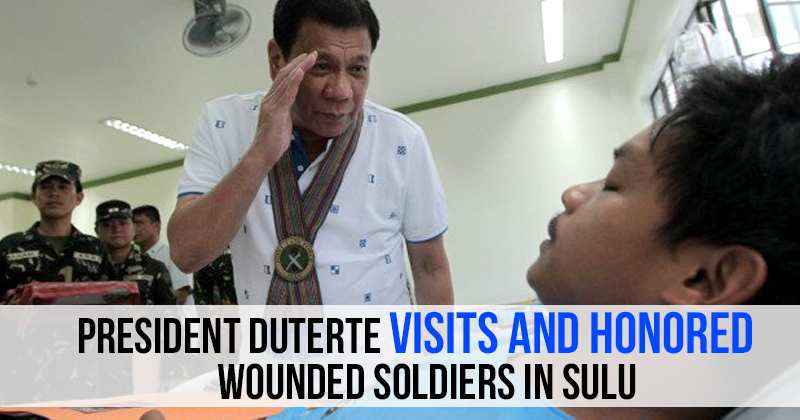 On October 31, Monday, President Rodrigo Roa Duterte visited and honored the injured army soldiers who are currently cured at a military hospital in Jolo, Sulu.
The president was accompanied by Armed Forces of the Philippines (AFP) Chief of Staff Ricardo Visaya as he visits the eight wounded soldiers at the hospital in Camp Teodulfo Bautista.
The soldiers were wounded during the encounter with the Abu Sayyaf group on Sunday, October 30. It was reported that eight army soldiers were wounded and two members of the Abu Sayyaf were killed during the combat.
Among the eight wounded soldiers, two of them were transferred to Camp Navarro General Hospital in Zamboanga City.
President Duterte awarded Wounded Personnel Medal, gave P100,000 in cash for financial assistance, and a Glock pistol to the wounded soldiers.
The wounded soldiers were identified as:
Corporal (Cpl.) Arjay Turingan
Private First Class (PFC) Lorenso Agwayan
Technical Sgt. Edwin Ramos
PFC Walter Dumpaw
PFC Hartblayne Akwat
PFC Ladni Basitaw
Cpl. Junardo Esperansa
PFC Conrad Bagsaw
News Source: Mindanao Examiner